Business news
Refined Oil Products Fuel Baltic Ports
10.20.2005 17:12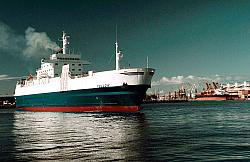 Russia's growing exports of refined oil products have allowed the Baltic ports in Lithuania, Latvia and Estonia to avoid running dry despite a slump in crude oil volumes from Russia.
Port data showed Wednesday that ports specializing in products transshipment and those that have recently switched to refined products handled greater volumes in the first nine months of 2005 than in the same period in 2004.
At the same time, crude oil shipments from Ventspils in Latvia and Butinge in Lithuania fell significantly as Russian export oil was rerouted from the Baltic to ports within Russia.
Russian oil firms say very high crude oil export duties have prompted them to avoid transporting oil by expensive means such as rail and river and to stick to cheaper pipeline routes.
But even those have suffered in past months as oil producers find they can make more profit from refining their oil within Russia in order to export it as products such as fuel oil and gas oil, which are subject to lower export duties than crude.
The data showed that Tallinn remained the largest outlet for Russian products as it exported 19.9 million tons in January through September, up 1 percent year on year.
Latvia's Ventspils port, which had been the biggest Baltic Sea outlet for Russian crude exports in the 1990s, had to further cut crude shipments to just 0.2 million tons from 2.1 million tons in the first nine months of last year.
But Ventspils' oil products exports rose by 13 percent to 12.9 million tons.
Lithuania's Butinge handled 4.245 million tons of crude oil in January-September, down 28 percent from 5.926 million tons in the same period of 2004.
Traders say the port has suffered from lower volumes because it is controlled by the fallen oil firm Yukos.
But traders add that Butinge has started shipping bigger volumes in the past months after pipeline monopoly Transneft appointed international trader Vitol as the main coordinator on this route.
Lithuania's Klaipeda, which has been receiving oil products for exports mainly from Mazeikiu refinery, also controlled by Yukos, had also been forced to cut exports.
It said its liquid cargo exports fell by 8.3 percent to 5.242 million tons in the first nine months of this year.
But the slump could have been much deeper if Klaipeda had not attracted volumes from other refineries in Russia and Belarus and even in Kazakhstan.
In September, the port cut its navigation and other fees to attract more customers.
Latvia's ports of Riga and Liepaja were the only two outlets which did not manage to avoid a big slump in cargoes.
Crude and products exports from Riga fell by 26 percent to 2.6 million tons, and Liepaja cut volumes by 30.5 percent to 0.5 million tons.
Russian ports, by contrast, have all managed to boost volumes with the flagship Primorsk increasing crude exports by 35 percent in January through September to 42.6 million tons.
Russia's second most important Baltic Sea outlet of St Petersburg increased oil products shipments by 20 percent to 11.9 million tons.
And the port of Kaliningrad, Russia's western exclave, also raised oil products exports by 11 percent to 6.6 million tons in January to September.
News source: themoscowtimes.com/


Print this news
---
Business news archive for 20 October' 2005.
Business news archive for October' 2005.
Business news archive for 2005 year.