Business news
Transit Telecom Selects CLASSICA CIS and Lucent Technologies to Build new MPLS/VPLS Network
11.25.2005 16:26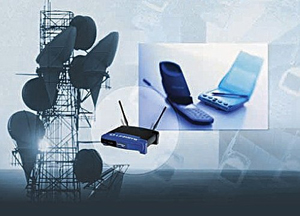 Lucent Technologies and OOO "MPO Classica" (CLASSICA CIS), a Lucent Business Partner in Russia, today announced that CLASSICA CIS has completed the first phase of building a next-generation network for ZAO Petersburg Transit Telecom (PTT), a carrier's carrier in the St. Petersburg area.
PTT's new Multi-protocol Label Switching (MPLS) network supports Virtual Private LAN Services (VPLS) based on carrier Ethernet technology from Riverstone Networks and equipment from other vendors. PTT also is testing infrastructure management software from Dorado Software, Inc. as part of the solution. Lucent is supplying the equipment and software under reseller agreements with Riverstone and Dorado Software. Lucent Worldwide Services will provide technical warranty support to CLASSICA CIS for the solution.
The new MPLS/VPLS network will help PTT increase its subscriber base, provide the quality of traditional voice and data services and introduce new advanced voice and data services to its enterprise and residential customers in St. Petersburg.
For example, PTT will now be able to support high-speed data services (up to 1 Gigabit per second), voice traffic and Internet access for enterprises as well as the delivery of content-rich multimedia voice, data and video services ("triple play") to residential customers in the future. VPLS capability can enable PTT to provide multimedia content more efficiently across a cost-effective Ethernet transport network from a single source to multiple subscribers.
The MPLS/VPLS solution supplied by Lucent and CLASSICA CIS to PTT includes Riverstone Networks' carrier Ethernet equipment, which adds to the capabilities of PTT's existing ATM network based on Lucent's GX 550(R) Multiservice WAN Switches.
"We are very satisfied with the work done by CLASSICA CIS within this project," said Eugeny Vassiliev, PTT's general director. "CLASSICA CIS' highly professional team provided their services on time and with good quality. Our new multiservice network allows us to introduce new value-added services and will result in increased revenues and operational efficiencies. We will now be able to provide customers in St. Petersburg with access to a wide variety of telecom services and grow the community of high-speed Internet users in our city."
"We already have experience in building similar metro area networks in other regions of Russia," commented Vitaly Moseev, general director of CLASSICA CIS. "We succeeded in ensuring the reliability of data services and access to a wide range of advanced telecom services while securing PTT's investments and increasing the efficiency of operating the network."
"Our global strategic partnership with Riverstone Networks helps us find the most cost-efficient way to build next-generation networks for service providers," said Dmitri Kamensky, managing director, Lucent Technologies Russia and CIS. "CLASSICA CIS, one of our Business Partners in Russia, also was able to execute this project quickly and flawlessly."
The solution for PTT includes Riverstone Networks' RS 8000, RS 8600 and RS 3100 Ethernet routers, as well as elements of Dorado Software's Redcell(R) suite of network and service configuration management software. CLASSICA CIS specialists provided a full set of professional services for deployment, including equipment delivery, installation, and testing as well as system integration into the existing network.
About Lucent Technologies
Lucent Technologies designs and delivers the systems, services and software that drive next-generation communications networks. Backed by Bell Labs research and development, Lucent uses its strengths in mobility, optical, software, data and voice networking technologies, as well as services, to create new revenue-generating opportunities for its customers, while enabling them to quickly deploy and better manage their networks. Lucent's customer base includes communications service providers, governments and enterprises worldwide. For more information on Lucent Technologies, which has headquarters in Murray Hill, N.J., USA, visit http://www.lucent.com/.
About CLASSICA CIS
OOO "MPO Classica" (CLASSICA CIS) is a full-cycle systems integrator specializing in most complex solutions in the field of construction of computer and telecommunication networks, from estimating a problem and working out a project to a solution implementation and maintenance. The company develops and implements complex schemes aimed at boosting business efficiency of various profile companies. A multi-vendor conception, high level of competence and realization of the market development trends allow the company to achieve a reasonable approach to a wide spectrum of modern technologies and to offer the customers only best solutions of the best manufacturers. For more information on CLASSICA CIS visit: http://www.classics.ru/
About Riverstone
Riverstone Networks, Inc. (RSTN.PK) is a leading provider of carrier Ethernet infrastructure solutions for business and residential communications services. Riverstone's Ethernet router portfolio uniquely delivers the reliability that allows carriers to meet the triple play -- voice, video and data -- service requirements of their customers in a cost-effective and scalable way. Riverstone allows carriers to offer new services over existing revenue-generating networks permitting them to evolve to a next generation Ethernet infrastructure.
Except for the historical information contained herein, the matters set forth in this press release, including without limitation statements regarding PTT's future increases in its subscriber base, the future performance of the vendors' equipment, the future delivery of new voice and data services, the potential capabilities of VPLS, increased revenues and operational efficiencies, and growth in users are forward-looking statements within the meaning of the "safe harbor" provisions of the Private Securities Litigation Reform Act of 1995. These forward-looking statements speak only as of the date hereof and are subject to risks and uncertainties that may cause actual results to differ materially. These risks and uncertainties include the continued proper performance of the vendors' equipment as installed by PTT, the execution of PTT of its marketing and services strategies, the availability of services that PTT's customers will want to purchase, new features made available for VPLS by the different equipment vendors, and PTT's overall business performance, along with those risks and uncertainties detailed from time to time in Riverstone Networks' SEC reports including the reports on Form 8-K filed on November 2, 2005. The company assumes no obligation to update or revise these forward-looking statements.
News source: sev.prnewswire.com


Print this news
---
Business news archive for 25 November' 2005.
Business news archive for November' 2005.
Business news archive for 2005 year.