Business news
The Road to Ust-Luga
02.03.2006 17:24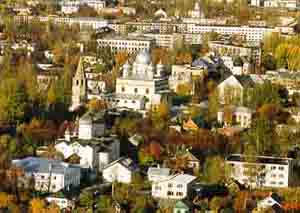 The construction of a federal road between the Ust-Luga port in Leningrad Oblast and the city of Novgorod is awaiting government approval, Kommersant reported Wednesday, citing an official source. The new road would shorten the route from Ust-Luga to Moscow by 100 kilometers and help improve the port's infrastructure.
Leningrad oblast governor Valery Serdyukov and Mikhail Prusak, governor of Novgorod oblast, proposed the project to the federal government last week.
The new road would link the Gulf of Finland to the federal road "Russia" which runs to Moscow. About 180 kilometers of the new road would pass through Leningrad Oblast and 89 kilometers through Novgorod Oblast.
"We are waiting for political approval from the government," Vasily Sokolov, chairman of the Leningrad Oblast's transport committee, said Tuesday at a press briefing.
The estimated cost of the project has yet to be revealed, but it should cost less than the building of a toll road between St. Petersburg and Moscow, Sokolov said.
Olga Litvinova, office managing partner of DLA Piper in St. Petersburg, said road construction is a favorite among investors specializing in infrastructure projects, representing up to 60% of the total value of such initiatives.
The complexity of the project — including the length of road, soil analysis, the legal allocation of land to the public domain — is the main factor effecting its realization, she said.
"Smaller, low-risk projects, such as the Ust-Luga — Novgorod road, may have a better chance of succeeding among investors," Litvinova said.
And though she said that the government prefers large-scale projects, like a toll road between St. Petersburg and Moscow, Ust-Luga port itself has already received federal backing.
"The port is extremely important for us. It is one of the largest infrastructure projects of the decade," president Vladimir Putin said on visiting the port last month. Putin indicated construction of a container terminal and a ferry line between Ust-Luga, Kaliningrad and German ports as crucial conditions for the port's development.
According to the official plan, freight turnover at Ust-Luga could exceed 35 millions tons by 2010. However, shipping analyst at SeaNews information and consulting portal Alexei Bezborodov questioned the port's need of a new road.
"Not one company which uses road transport — mainly container and timber operators — is going to work there," Bezborodov said.
"The coal terminal does not need motor transport. It uses the railway, which is already available. Other terminals do not exist yet — even the projects do not exist. There is nothing to speak about. All this is merely ambition and PR," Bezborodov said.
However, he admitted, the road could improve transportation infrastructure in the regions, which is at the moment "in a serious state of neglect."
Considering there currently only exists a coal terminal, other infrastructure projects seem more important. Russian Railways and the Ust-Luga company announced the launch of a joint enterprise for servicing freight in the port, Prime-TASS reported Wednesday, referring to press service for Russian Railway.
Sergei Shidlovsky, president of the Transsphere group of companies, also said that "if Ust-Luga port is to process cargo that needs road transport, then the road will, of course, be in demand."
However, he said, "road construction in Russia is unprofitable. It is only reasonable in terms of convenience."
As compared to other similar projects, Shidlovsky said "toll road construction is much more attractive for investors in terms of the return on investment since it is a real business."
By Yekaterina Dranitsyna
News source: times.spb.ru


Print this news
---
Business news archive for 03 February' 2006.
Business news archive for February' 2006.
Business news archive for 2006 year.