Business news
Heineken to Distribute Bud as "Luxury" Brand
03.10.2006 12:25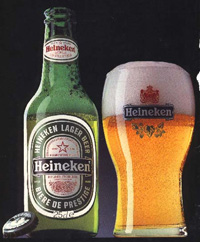 St. Petersburg's Heineken brewery will start producing and distributing Budweiser beer, the company said Tuesday, after signing a licensing agreement with Bud's brand owner Anheuser-Busch.
"Bud will be sold in 'expensive' bars and restaurants in major Russian cities and will come in 0.5 liter and 0.33 liter bottles and 0.5 liter cans," Interfax reported, citing the Heineken statement.
Despite being the world's largest beer producer, Anheuser-Busch relies on the U.S. market for most of its sales. Foreign markets account for only 16 percent of its revenue.
According to the statement, Heineken occupies about 14 percent of the Russian beer market, being the third largest distributor in terms of sales after Baltic Beverages and InBev. Heineken already produces Bud beer in Italy, and sells it in Poland and the Canary Islands, according to a report by Bloomberg.
Victoria Grankina, senior analyst for consumer market at Troika Dialog brokerage, suggested that Heineken wants to find out how Bud would be consumed in Russia, given that licensed beer has been outpacing the market.
"In America Bud is a famous brand. But it is not obvious whether it will perform well in Russia. It will depend on whether consumers here like the flavor and the quality," she said.
"Generally speaking, Russians who live in America do not like the taste of Bud. However, there is always interest in a new product, which could increase its sales at first," Grankina said.
As for Heineken wanting to distribute Bud as an expensive brand, Grankina considered it as some kind of innovation.
"It's not an expensive brand. In America it is considered a mass-market brand. Maybe Heineken wants to market it differently in Russia, but it's not a premium-class brand anyway," she said.
Another expert disagreed.
"The Bud brand is familiar to some Russian consumers. Promotion of Bud primarily in hotels, restaurants and cafes seems quite a logical step," said Mikhail Podushko, marketing director at Comcon-SPb statistics agency.
"How actively Heineken, which owns several licensed brands, will promote Bud depends on the terms of the agreement with Anheuser-Busch," he said.
The Russian beer market is still growing fast in relation to other countries that foreign producers are targeting.
"The share of licensed beer in the Russian market is growing. During 2005 licensed beer sales increased by about three percent, and this segment is one of the most dynamic," Podushko said.
Heineken has operated in Russia since 2002 when it acquired the Bravo plant in St. Petersburg. In 2004 Heineken bought the Sobol Beer plant and Tsepko company (owner of the Shikhan and Volga beer plants). Last year the company acquired the Patra plant in Yekaterinburg, Stepan Razin in St. Petersburg, Baikal brewery and Ivan Taranov Breweries.
By Yekaterina Dranitsyna
Staff Writer
News source: sptimes.ru


Print this news
---
Business news archive for 10 March' 2006.
Business news archive for March' 2006.
Business news archive for 2006 year.