Business news
Smolny Unveils $300M 'Petersburg-City' Plans
03.17.2006 12:34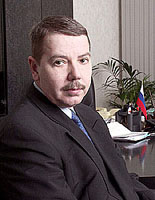 Smolny has announced the construction of a 300,000 sq. meter office complex to house the national giants intent on registering in the city, vice-governor Alexander Vakhmistrov said at a press briefing Tuesday.
"The largest companies, including Sovkomflot, VTB, Sibneft and Transneft, have appealed to us for land plots with engineering infrastructure where they can locate their offices. That's why we have decided to create a kind of Petersburg-City for major tax-payers," Interfax quoted Vakhmistrov as saying.
The office complex, to be completed by 2016, would be constructed near the Peter the Great bridge, on the right bank of the Neva river, on the land where state oil giant Gazprom had intended to build its own office complex.
Although the high-rise center "Gazprom-City" was originally scheduled to be started in April 2007, documentation for the project is yet to be developed and Gazprom is now likely be included in City Hall's plan, Interfax reported Tuesday.
The city budget is ready to cover up to $200 million of the project's total cost, with an additional $100 million to come from private investors, the vice-governor said.
"But in the future we hope that non-budget sources will become the main source of funding," he explained.
Victoria Kulibanova, development manager at Astera real estate consultancy, said that both the proposed duration and cost of the project were credible, since something of this scale wouldneed at least five years to complete.
"Such a business center would become the largest in the city. However, 300,000 sq. meters is too much space, especially if offered to the market all at once. This volume of office space is a killer for the market," Kulibanova said.
According to Astera, 100,000 to 150,000 sq. meters of office space is created in the city annually.
Alexei Chizhov, director of office real estate at Becar Consulting, said that development of the plans could take up to two years, and construction would need another eight to nine years.
Chizhov agreed that taking into account the cost of consultants, projection, preparation and construction works, as well as the provision of engineering infrastructure, the center would cost around $1,000 per square meter, with the cost of the land itself on top.
He suggested that the project could be realized in several stages.
"Such a complex would not have a huge effect on the market for office space. Relative to the scale of the city, 300,000 sq. meters is not that much space. Besides, part of this office space in all likelihood already has tenants," Chizhov said.
The Becar analyst was confident the building would find tenants, since many companies would like to be neighbors with famous "giants."
One of the country's largest banks, VTB, confirmed its interest in any such office development.
"Vneshtorgbank is certainly interested in finding additional office space in St. Petersburg. At the moment we are discussing several of Smolny's proposals," Vneshtorgbank press service said in an official statement. However the bank press service refused to comment on any proposal in particular.
Given its size, the project will require pools of investors to finance it.
"The project could be split into lots, with each lot offered to corporate co-investors separately. The cost of participation will be determined by City Hall after developing a plan and analyzing the return on investment," Chizhov said.
He did not exclude spreading the risk among investors, so that particular buildings would be financed by one group and sold to another after completion.
"During the next ten years it is possible that the market for completed real estate, allowing a change of investor at the stage of completion, will develop in the city," he said.
With other large projects on the horizon in the years ahead, the challenge for local authorities is to "support the construction of business areas and increase the scale of such projects by developing the economy and stimulating business activities."
"It is relatively easy to construct buildings, but you need to understand who will use them, how much they will use and in what way," Chizhov said.
By Yekaterina Dranitsyna
Staff Writer
News source: sptimes.ru


Print this news
---
Business news archive for 17 March' 2006.
Business news archive for March' 2006.
Business news archive for 2006 year.