Business news
Report Forecasts Booming Decade for Tourist Market
03.31.2006 11:54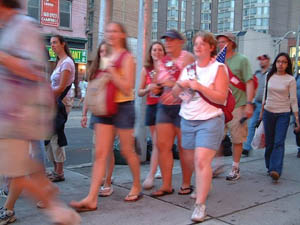 By Yelena Andreyeva
Special to St. Petersburg Times
Over the next ten years the country's tourism market will boom, making it a world leader in the field and acting as a catalyst for wider economic and social development, a recently published report has claimed. The research on Russia's tourism industry was presented by the World Travel & Tourism Council (WTTC) at the Astoria Hotel last week.
Having quantified all aspects of travel and tourism demand, from personal consumption to business purchases, capital investment, government spending and exports, the WTTC report translated the findings into macroeconomic concepts of production, such as GDP and employment. According to the research, the positive trends forecast for the next decade have already started to appear. The wider travel and tourism economy is expected to contribute 7.8 percent to Russia's GDP — as opposed to 11.8 percent in Europe — and it should account for 4.5 million jobs, representing 6.6 percent of total employment, compared to 11.8 percent in the EU.
However, employment in the tourism sector will rise slowly, with an annual increase of only 1.5 percent — the same rate as in Europe's developed markets. By 2016, the tourism sector's share of employment will be 7.7 percent, compared to 13 percent in Europe. Nevertheless, according to the report almost all other market growth rates will exceed European ones.
The report found government expenditure on travel and tourism, which is currently estimated at 2.7 percent of total spending and not expected to grow over the next few years, "sorely inadequate for a fast growing industry."
Among WTTC recommendations were the elaboration of a new action plan for tourism development; identification and investment in a 'Russia brand,' promoted both internationally and domestically; the identification of special economic zones for tourism to encourage investment; and the easing of visa requirements for visitors.
Also mentioned in the report was the low general level of tourist infrastructure in terms of transport and accommodation, the latter overpriced and lacking mid-range hotels and youth hostels.
"The night I spent at a five-star hotel in Moscow yesterday was the most expensive in my life," said Richard Miller, executive vice president of the WTTC.
Product diversification was cited by the report as one of the most important ways of developing the country's tourism market — it stated that only 20 percent of the country benefits from tourism, and 80 percent of foreign tourists visit only two main cities — Moscow and/or St. Petersburg.
"St. Petersburg can join Paris and Rome as one of the world's leading city destinations," said WTTC president, Jean-Claude Baumgarten. "And if it will take about 5 years for St. Petersburg to develop, in Russia's regions it will need more time."
Baumgarten appealed to the St. Petersburg government and local industry to work together and take advantage of events such as the upcoming G8 summit to increase St. Petersburg's profile and to raise awareness of the tourism opportunities it offers. Nevertheless, he warned that a lack of facilities will mean the city won't capitalize on such high profile events. City Hall has allocated around $5 million for development of the industry, but the city really needs another $2 million, he said.
News source: sptimes.ru


Print this news
---
Business news archive for 31 March' 2006.
Business news archive for March' 2006.
Business news archive for 2006 year.