Business news
Russia's special economic zones to open in 2007
04.07.2006 11:28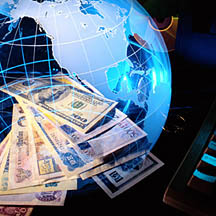 Six special areas designed to promote Russia's high-tech and industrial development will be largely set up by the end of 2007, a senior official said Thursday.
Two types of special economic zones - technological and industrial - will be established under legislation that came into force January 1, 2006. They will offer companies working in the areas customs and tax breaks for a maximum of 20 years.
Yury Zhdanov, the head of the federal agency for special economic zones, said: "We will be able to put all the six zones into operation by the end of 2007."
Zhdanov said the first phase of a technology zone in Tomsk, Siberia, would be launched April 26. Three more zones would be launched in Dubna and Zelenograd near Moscow in September and in St. Petersburg, Russia's second biggest city, in late 2006.
The St. Petersburg zone will focus on research and IT products and equipment. The zone in Dubna, where a nuclear center is based, will produce nuclear technology, the Zelenograd zone will specialize in microelectronics, and the Siberian zone in new materials.
An industry zone in Yelabuga, in the Volga republic of Tatarstan, will produce car parts in cooperation with Korea's Hyundai and the U.S. giant General Motors. The zone in the central Russian region of Lipetsk will specialize in household appliances and possibly furniture.
Finance Minister Alexei Kudrin said Monday the government planned to spend 78.8 billion rubles ($2.84 billion) on the development of special economic zones in the next four years.
In 2006, 8 billion rubles (about $290.6mln) will be allocated from the budget on the project.
Zhdanov also said special tourist and port zones were under consideration. He said he hoped a bill to approve the latter two types of SEZs would be passed in April and signed by the president in May.
The regions to accommodate special port zones could be picked via a contest at the end of 2006, Zhdanov said.
The Economic Development and Trade Ministry has drafted a law on special port zones. The ports of Ust-Luga and St. Petersburg on the Gulf of Finland, the Barents Sea port of Murmansk, and the Far Eastern port of Nakhodka were mentioned as candidates for the project.
A bill on special tourist areas has been submitted to the State Duma, the lower house of parliament, which could approve it before the end of April. Three or five tourist zones could be created in Russia's Krasnodar Territory, home to popular Black Sea resorts, and areas surrounding Lake Baikal, the world's largest freshwater body, which offers beautiful scenery.
The Russian government hopes skilled workforce, cheap resources, inexpensive electricity and relatively inexpensive land in Russia will guarantee the project's success.
Zhdanov earlier said the proportion of applications for each economic zone had been equally divided between domestic and foreign companies and there would be no favoring of the latter in SEZs. Foreign partners are also expected to help Russian products enter foreign markets.
News source: en.rian.ru


Print this news
---
Business news archive for 07 April' 2006.
Business news archive for April' 2006.
Business news archive for 2006 year.