Business news
Constructing a Roman Road to Russian Retail Salvation
05.11.2006 12:32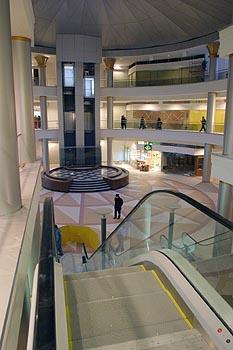 An Italian company has promised to brighten up the lives of local shoppers by building a Roman Coliseum to house an appropriately Mediterranean setting. Costruzioni Margheri's plan to build a shopping center replica of the famous ancient monument was greeted with interest by local experts, who were nevertheless quick to point out the competitive nature of the shopping complex market.
The 120 million euro ($100 million) Nevsky Coliseum complex will have no analogue anywhere in the world, company president Mario Margheri said at a press conference Thursday.
Construction of a two-storey, 100,000 square meter shopping and entertainment center, will start in June in Bugry in the Leningrad Oblast.
When it opens in March 2008, half the complex will house 220 mono-brand boutiques, as part of a zonal shopping area designed to resemble streets in Milan, Rome, Florence and Venice.
The project also includes: a 20,000 square meter artificial sea and beach called Riviera, which will offer year-round swimming; a 120-room hotel; a 5,000 square meter business center; 10 restaurants; a 10-screen cinema; and parking for 6,000 cars.
The project's pay back period is set for eight years to nine years, the company said in a press release. With the company expecting around three million people a year to visit the complex, of which one million will visit Riviera, annual turnover is planned at 300 million euros ($243 million).
"An original entertainment facility imitating the sea could be a magnet drawing people to the complex," she said, but recalled the rival aquaparks at the Rodeo Drive complex, Stremberg's shopping and entertainment center in Primorsky district and newly-opened Waterville in Pribaltiiskaya hotel.
The Nevsky Coliseum's catchment area will include densely populated Northern districts, Vasilieva said.
"But shopping areas are popping up at exponential rates," she said, alluding to the Grand Canyon, Rodeo Drive, Four Elements, PR 12, Mega and North Mall.
"The advantage of Nevsky Coliseum is that, like Mega and North Mall, it will create a large retail park able to attract a significant number of consumers," Vasilieva said.
Arina Sender, director of retail at Colliers International in St. Petersburg, considered the complex's location near the ring road to be advantageous.
She indicated three major innovations that "set this complex apart from the competition": an artificial sea; interior zoning that logically divides the complex's tenants; and the Italian cuisine offered in trattorias and take-away restaurants.
Yurevich indicated Grand Canyon and the Leader super-regional entertainment center as the main competitors for Nevsky Coliseum.
By the end of 2006 the Mega shopping center will open at Bugry, and the Rodeo Drive shopping center and North Mall retail park on Prospekt Kultury.
At the same time as Nevsky Coliseum, the Osinovaya Roshka shopping center will open on the Vyborgskoye highway, Yurevich said.
According to LCMC, 710,000 square meters of new shopping areas will appear in the city in 2006 and by 2008, 200,000 square meters of shopping center will be in excess of demand.
Nevsky Coliseum's rivals will have anchors in their strong entertainment tenants, unique to the St. Petersburg market, Yurevich said. Mega will have a skating rink, Rodeo Drive — an aquapark.
"The entertainment area at Nevsky Coliseum is similar to an aquapark, which causes additional risks. Being a 'multicomplex' is in itself longer original and therefore no longer a competitive advantage," he said.
The payback period could also be longer than they expect, Yurevich said, because in 2008 the economy will be vulnerable to the results of the presidential elections, oil prices and the end of a cycle of national economic growth.
News source: The St. Petersburg Times


Print this news
---
Business news archive for 11 May' 2006.
Business news archive for May' 2006.
Business news archive for 2006 year.