Business news
Elcoteq to Manufacture Antennas for PCTEL in St. Petersburg, Russia
05.12.2006 13:17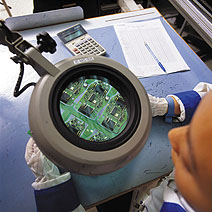 Elcoteq SE, a leading provider of electronics manufacturing services (EMS) to the communications technology industry, has entered into an agreement with the American-based PCTEL Antenna Products Group, Inc., a wholly-owned subsidiary of PCTEL, Inc. (Nasdaq:PCTI). According to the agreement Elcoteq will manufacture iVET (integrated Variable Electrical Tilt) base station antennas along with certain land mobile radio antennas in Elcoteq's new St. Petersburg plant in Russia. The deliveries will begin in the second quarter of 2006.
"PCTEL is a great addition to our customer list in the Communications Network Equipment business area and our new St. Petersburg plant in Russia," says Bruno Cathomen, Vice President, Communications Network Equipment at Elcoteq. "Antennas fit extremely well within our scope, and we believe that our knowledge and expertise combined with our flexible and efficient manufacturing will strongly support PCTEL's prosperous growth. The synergies between the two companies are good in other product areas and geographical locations as well, which creates a good basis for expanding the business in the future."
"Elcoteq is an ideal contract manufacturer for our Antenna Products Group," says Marty Singer, Chairman and CEO of PCTEL. "With previous experience in manufacturing sophisticated base station antennas, Elcoteq will help Antenna Products Group achieve its cost targets across several product lines," adds Singer.
About Elcoteq
Elcoteq SE is a leading electronics manufacturing services (EMS) company with original design manufacturing (ODM) capabilities in the communications technology field. Elcoteq provides globally end-to-end solutions consisting of design, NPI, manufacturing, supply chain management and after-sales services for the whole lifecycle of its customers' products. These products include terminal products such as mobile phones and set-top boxes as well as communications network equipment such as base-stations, tower-top amplifiers and microwave systems. The company operates on four continents in 15 countries and employs approximately 20,000 people. Elcoteq's consolidated net sales for 2005 totaled MEUR 4,169.0. Elcoteq SE is listed on the Helsinki Stock Exchange. More information on the company is available at www.elcoteq.com.
About PCTEL
PCTEL, Inc. (Nasdaq:PCTI), which is headquartered in Chicago, is a global leader in wireless broadband solutions. PCTEL's Antenna Products Group (http://antenna.pctel.com) designs, distributes, and supports innovative antenna solutions for public safety applications, unlicensed and licensed wireless broadband, fleet management, network timing, and other GPS applications. PCTEL's Mobility Solutions' (http://mobilitysolutions.pctel.com) software tools provide secure, access independent, remote connectivity to the Internet and VoIP capability for converged handsets. PCTEL's RF Solutions' (http://rfsolutions.pctel.com) portfolio of OEM receivers, receiver based products and interference management solutions are used to measure, monitor and optimize cellular networks.
PCTEL protects its leadership position with a portfolio of more than 130 analog and broadband communications, wireless and antenna patents, issued or pending. The company's products are sold or licensed to wireless carriers, wireless ISPs, distributors, system integrators, wireless test and measurement companies, wireless network equipment and handset manufacturers, PC card manufacturers and government agencies. For more information, please visit the company's web site at: http://www.pctel.com.
PCTEL Safe Harbor Statement
This press release contains "forward-looking statements" as defined in the Private Securities Litigation Reform Act of 1995. Specifically, the statements regarding PCTEL's outsourcing the manufacture of certain antenna product lines to a contract manufacturing company are forward looking statements within the meaning of the safe harbor. These statements are based on management's current expectations and actual results may differ materially from those projected as a result of certain risks and uncertainties, including but not limited to the ability to achieve cost reductions as a result of the outsource of these lines, and the effect of competition in the company's markets. These and other risks and uncertainties are detailed in PCTEL's Securities and Exchange Commission filings. These forward-looking statements are made only as of the date hereof, and PCTEL disclaims any obligation to update or revise the information contained in any forward-looking statement, whether as a result of new information, future events or otherwise.
News source: tmcnet.com


Print this news
---
Business news archive for 12 May' 2006.
Business news archive for May' 2006.
Business news archive for 2006 year.