Business news
In the Business of Helping Out
05.26.2006 13:29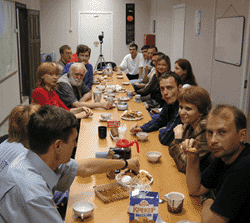 By Yelena Andreyeva
Special to St. Petersburg Times
A St. Petersburg club, "Svoe Delo" ("Your business"), is becoming a more and more popular meeting place for businessmen to get the advice they need to survive in the rough and tumble of the Russian market.
"Your business" is a non-commercial organization of around 200 members that assists the "self-starting" businessmen, as well as their more experienced colleagues, to fulfil their business plans, including the setting up, running and expansion of new companies.
Every week the club plays host to businessmen working in such varied areas as commerce, real estate and the service industry, to share their ideas and brainstorm around problems of a particularly "insoluble" nature. Among issues that often come up for discussion are "how to find your business niche," "how to start a business from scratch without any initial capital," "how to double turnover," and "how to learn to find non-standard business solutions."
The purpose of the club is "to join together those "honest" businessmen who work without doing damage to other people and the environment, and without resorting to "combative" advertising that use human vice and weakness to promote their products and services."
Developing oneself through tackling practical business problems in a team is the club members' credo.
The club was founded four years ago by Sergei Sidorenko, a reserve lieutenant colonel and owner and general director of the "Smolenka" trade house. Having run three companies involved in real estate, commerce and finance, Sidorenko decided to start supporting other businessmen and launched a new project — a club for beginners in business who are always welcome to come with their problems, to ask for advice and get it absolutely free of charge.
"I get bored just doing business," said Sidorenko. "However, while doing it, you always learn something and I want to share my experience with others."
Not only does the club welcome beginners, but also employers and entrepreneurs who come looking for personnel or business partners for their companies.
The club cooperates with different social and educational organizations, such as the Rotary Club, the Russian American Fund "Center for Citizen Initiatives," the British Council and others that provide their members with the information on educational programs and internships in Russia and abroad.
Keen to collaborate with Russia's other clubs for businessmen, "Your business" members recently went to share their experience with colleagues in Moscow and, in the future, plan to launch themselves on the international business stage and start work with the foreign branches of similar clubs.
The meetings of the club "Svoe Delo" are held every Wednesday at 6 p.m at the office of the support center for businessmen "Vasileostrovsky" 59/1, 6 liniya, Vasiliyevsky Island.
Entry is free.
www.vascpp.ru
News source: times.spb.ru


Print this news
---
Business news archive for 26 May' 2006.
Business news archive for May' 2006.
Business news archive for 2006 year.