Business news
Flying Finns Eye City's New Investments
05.26.2006 12:23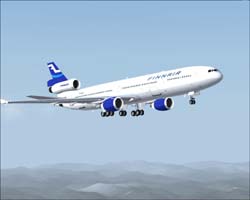 By Yekaterina Dranitsyna
Staff Writer
Finnair Cargo has signed an exclusive licensing agreement with the St. Petersburg-based Transsphere group, providing it with airfreight business in the Northwest region and across Russia, the companies announced Tuesday at a press conference.
Transsphere has been providing freight forwarding services to Russian companies since 1996. The new partnership will give Transsphere's clients access to the international airfreight system offered by Finnair.
According to Sergei Shidlovsky, president of the Transsphere group, the deal will be "significant for the transportation industry in Russia."
Finnair Cargo, based in Helsinki, transports around 86,000 tons of freight annually, operates 70 planes and flies to 60 destinations worldwide.
Last year the company exported 500 tons of freight from Russia.
"With this new agreement, which gives us access to Moscow and other regions, this amount could double at very least," said Ilpo Kuisma, vice president for new markets at Finnair Cargo.
"It's a good opportunity for us to expand our cargo business in Russia. This area will be very important for us in the future," Kuisma said.
Finnair Cargo will increase the number of its Russian destinations and offer greater capacity to the market, Kuisma added.
At the moment the company is planning regular flights to Yekaterinburg, but the partners indicated the opportunities offered by the Russian market, which covers vast territories and is still underdeveloped. "We have huge potential here. Only five percent of exports are carried by air," Kuisma said.
The agreement concerns freight export but also includes the possibility of importing cargo.
Timo Riihimaki, sales vice president of Finnair Cargo, suggested that St. Petersburg's new car plant, currently under construction, would increase demand for air cargo. Demand for two-way transportation from American, Japanese and Chinese companies will be high in the future, he said.
However in absolute terms the business as it stands fails to impress. Transsphere revenue from export operations in St. Petersburg was 500,000 euros last year.
"With this deal we aim to be the first company to offer Finnair Cargo services to the Russian market. It's too early to speak with certainty of when we'll be profitable. But if we had not acted, others would have done in our place," Shidlovsky said.
"In Finland we are a partner of the IATA, which means we can cooperate with all the other airlines in this union," said Esa Heikkinen, managing director of Transsphere Oy, Finland.
In Russia, Transsphere Aero, part of the Transphere group, has agent agreements with several local airlines including Pulkovo, Ural Airlines, Vladivostok Avia and Aeroflot-Nord.
Lufthansa, British Airways and Air France are the largest players in the airfreight business.
"Russia is considered to be a region with high potential and growing importance for Lufthansa Cargo. Although we do not plan to open new stations in Russia at the moment, we have been able to increase the number of flights – in the summer of 2006 we have got additional Munich flights from and to St. Petersburg and Moscow," said Veli Polat, Regional Director for Sales in Russia and CIS at Lufthansa Cargo.
Lufthansa Cargo has direct flights to five Russian cities – Moscow, St. Petersburg, Samara, Nizhny Novgorod and Ekaterinburg.
"We are able to deliver freight inside Russia not only to the cities where we have direct flights. We serve off-line destinations using a transit center in Moscow. Thus, almost any city in Russia can be reached either by truck or on board a local airline," Polat said.
Lufthansa Cargo has signed about 160 agent agreements in Russia with freight-forwarding companies and other firms. The company serves leading industrial companies and small enterprises.
"We are satisfied with the growth we had in 2005 compared to 2004. We expect a double-digit growth rate this year as well. The ratio between export and import in Russia is at the moment 1:5, so this will give you an indication about the general picture as well," Polat said.
"Moscow and St. Petersburg are showing the largest demand for airfreight. Planned investments in St. Petersburg are indicating higher potential for the future," Polat said.
According to RIA Novosti, airfreight volume in Russia decreased by 4.7 percent last year to 624,000 tons.
Of this amount 365,000 tons passed along international routes and 259,000 tons internally, the news agency reported on Jan. 19, citing the director of the civil aviation, geodesy and cartography department at the ministry for transportation Karl Ruppel.
Half the total shipment (passenger and freight) was provided by five Russian airlines — Aeroflot, Sibir, Pulkovo, KrasAir and Transaero.
Reasons for the decrease in transshipment include the growing cost of fuel, as well as unfavorable and time-consuming customs procedures.
It is the second successive year that demand for air cargo has fallen in Russia.
According to IATA statistics, international airfreight increased only 3.2 percent last year. However, despite growth, air carriers lost $6 billion.
IATA forecasts airfreight to increase between five and six percent this year. Nevertheless, total losses for the airline industry as a whole will account for $4 billion.
"The industry will not get back into the black before 2007 at the earliest," Reuters reported on Jan. 31 citing IATA CEO Giovanni Bisignani.
News source: times.spb.ru


Print this news
---
Business news archive for 26 May' 2006.
Business news archive for May' 2006.
Business news archive for 2006 year.