Business news
Russia to sell South Africa nuclear fuel
09.06.2006 13:54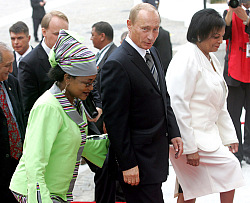 Russia will supply South Africa with nuclear fuel up to 2010, visiting Russian President Vladimir Putin told a news conference at Tuynhuys on Tuesday.
Flanked by President Thabo Mbeki, he told journalists that a Russian company was planning to invest $1bn in production of manganese in this country.
Putin also said that Russian companies were interested in contributing to power generation capacity and were also interested in an aluminium smelter project.
Putin emphasised that he was not in the country simply for "political tourism", but to strengthen the business relationship between the two countries.
The Russian president, who is to meet business leaders later on Tuesday, said his country was also looking at the "possible supplies" of liquidified natural gas to South Africa.
Noting that trade relations with their traditional European partners ran into billions of US dollars each year, the prospects for raising SA/Russian trade were high as they stood at only about 200m a year.
Long-term projects
Putin, who is accompanied by a large business delegation and with cabinet leaders from his country, said Russia was interested in the long-term projects connected with the extraction of metals and metal ores.
The visiting president did not refer to a particular location of the aluminium project, but it was understood that he was referring to the planned project at Coega industrial development zone in the Eastern Cape.
Mbeki meanwhile said that an agreement signed connected to co-operation with space technology would see the countries launching "micro satellites" in December this year using Russian Federation rockets "so we are going to have things in outer space ... which help us to catch up with the rest of the world".
Noting that Health Minister Manto Tshabalala-Msimang had received training in Leningrad - now St Petersburg - Mbeki said that Russia would assist South Africa in areas of medical research and the training of medical personnel in that country.
Russian economy
Putin said that 10 to 15 years ago the Russian economy was "in transition to market principles" and it was not ready for fully-fledged co-operation with its economic partners.
Speaking through a translator, he said: "Now the situation has changed dramatically," noting that in the first six months of this year the economy of his country had growth by 7.4% and it had grown by about 7% for the last three or four years.
He said the gold and forex reserves of his central bank were growing "so fast" that he could hardly keep track of the figures himself.
"He knew that the reserves now totalled about $300bn.
News source: news24.com


Print this news
---
Business news archive for 06 September' 2006.
Business news archive for September' 2006.
Business news archive for 2006 year.