Business news
Lundin Mining signs agreement to acquire a 49% Interest in the Ozernoe project in Russia
09.27.2006 15:55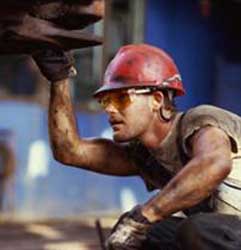 Lundin Mining Corporation ("Lundin Mining" or the "Company") is pleased to announce that its wholly-owned subsidiary, Lundin Mining AB, has signed a final agreement with IFC Metropol ("Metropol"), through Metropol's 100% owned subsidiary, East Siberian Metals, to acquire a 49% interest in the Ozernoe project, a major zinc/lead deposit located in the Republic of Buryatia in the Russian Federation. Lundin Mining's consideration for its 49% interest will be US$125 million. A preliminary assessment of the project contemplates construction of an open pit mining operation. Indicated resources are estimated at 157 million tonnes grading 5.2% zinc and 1.0% lead.
Karl-Axel Waplan, President and CEO of Lundin Mining, commented, "With the final agreement signed, we will continue the work that has already been started in developing the Ozernoe deposit into one of the world's largest zinc mines. When the mine is in full production it will easily double our zinc production. We look forward to working with Metropol on this project, and believe that Lundin Mining and Metropol both will benefit from this co-operation. For Lundin Mining, recent months have been marked by high activity. Apart from reaching a final agreement on the Ozernoe project, we have also announced a proposed merger with the Canadian mining group EuroZinc, which we are very excited about. By merging Lundin Mining and EuroZinc a premier base metals producers is created."
Mikhail Slipenchuk, CEO of IFC Metropol, commented: "In the coming years the Ozernoe mining operation will become Russia's largest producer of zinc and lead concentrates and will be among the largest international producers in this field. In the next 4-5 years we plan to invest about US$ 1 billion in this business."
Lundin Mining announced on June 29, 2006 that the Company had signed a letter-of-intent to acquire a 49% interest in the Ozernoe project. The Company is today pleased to announce that the negotiations with Metropol have been concluded and that Lundin Mining and Metropol have agreed on the final terms of the transaction. Parallel with negotiating the final terms of the agreement, a verification drilling program on the Ozernoe deposit has been conducted under the direct supervision of Lundin Mining. Although the full analysis of the verification drilling programme is not yet complete, the results have validated all essential aspects of the historical drilling and exploration data that relate to the Ozernoe deposit.
Upon completion of the transaction, a joint venture company will be formed in which Lundin Mining will hold a 49% interest and Metropol will have a 51% interest. Activities of the joint venture company will be the subject of a shareholders agreement. The consideration for the 49% will be US$ 125 million of which US$ 2 million has been paid to secure negotiation exclusivity on the project until September 29, 2006. US$ 113 million is payable upon closing of the transaction of which a portion (approximately US$ 10 million) will be used to take the project towards a bankable feasibility study. The remaining US$ 10 million is payable when the project goes into commercial production. The final purchase price is subject to adjustment based on recoverable zinc metal from the JORC Code resources confirmed by the bankable feasibility study. The acquisition is subject to all requisite regulatory approvals.
The final agreement also confirms that Lundin Mining has the right of first refusal (valid for 9 months starting from May, 2006) with respect to the Kholodninskoye zinc project, which was also announced on June 29, 2006. Kholodninskoye, currently controlled by Metropol, is a zinc-lead-silver project located in the same region as the Ozernoe project.
Oleg Mikhailenko, CEO of East Siberian Metals and Alexander Kim, CFO of East Siberian Metals, commented: "We are enthusiastic about having the opportunity to co-operate in this project with Lundin Mining, a company with ambitious expansion plans. Developing Ozernoe into a profitable and technologically advanced mining operation will be one of the largest greenfield project in mining in the post-Soviet Russia. We also look into other projects in the region.
These projects will also be extremely important in promoting economic development and social welfare of the Republic of Buryatia. The combination of our local knowledge and Lundin Mining's expertise within exploration and mining forms a strong foundation for a successful venture."
The Rector of St. Petersburg State Mining Institute Vladimir Litvinenko commented: "Construction of the Ozernoe mining operation in Buryatia is a large project even on an international scale that in fact will mark renaissance of the zinc segment of non-ferrous metallurgy in Russia. The St. Petersburg State Mining Institute welcomes such comprehensive approach to developing unique greenfield natural resource projects, as it is a locomotion of the economy that will create additional momentum for the manufacturing sector, for new technologies and for development of human capital."
The Ozernoe project is located 250 km northeast of Ulan Ude, the capital of the Republic of Buryatia, in an area known for containing mineral resources. The property contains zinc and lead mineralization in near-surface, layered sulphide lenses, with large amounts of pyrite. The deposit also contains silver. This major deposit is well known and was extensively explored during the 1970's and 1980's. The preliminary assessment contemplates a conventional open pit mining operation. A processing plant will be constructed to produce zinc and lead concentrates on site. Power will be supplied by the local grid and supplemented by a coal-burning power station. Water will be sourced from groundwater in the vicinity of the deposit. Environmental issues have been assessed and a conceptual closure plan has been developed and costed. The concentrates will be transported to the Trans-Siberian railhead at Mogzon, approximately 165 kilometres from the site. Connecting roads exist but will have to be upgraded. The assessment is based on concentrates mainly being directed to smelters in China, Russia, Japan and Korea.
Lundin Mining will have overall responsibility for mining operations, including project development, construction and operation of the mine once completed. A preliminary capital expenditure of US$400 million has been estimated. Lundin Mining is responsible for arranging project financing in an amount equal to 60% of the cost required to put the Ozernoe project into commercial production. The remaining 40% will be injected as equity by Lundin Mining and Metropol on a pro rata basis.
A resource estimate classified under the JORC Code(i) as Indicated Mineral Resource has been estimated as part of the assessment made in May 2006 by AMC Consultants Pty Ltd on behalf of Metropol. The Indicated Mineral Resource is stated in the report on the assessment as 157 million tones at 5.2% Zn and 1.0% Pb reported at a 2% Zn only cut-off. The assessment was based entirely on available Russian state surface and underground exploration reports and by-products such as precious metals were not reported and would be in addition to the stated Indicated Resource.
(i)Australasian Code for Reporting of Exploration Results, Mineral Resources and Ore Reserves, The JORC Code 2004 Edition, Effective December 2004, Prepared by the Joint Ore Reserves Committee of the Australasian Institute of Mining and Metallurgy, Australian Institute of Geoscientists and Minerals Council of Australia(JORC).
The information in this statement that relates to Mineral Resources is based on information compiled by Dean Carville, Qualified Person pursuant to NI 43-101, who is a Member of the Australasian Institute of Mining and Metallurgy and a full-time employee of AMC Consultants Pty Ltd. Dean Carville has sufficient experience which is relevant to the style of mineralization and type of deposit under consideration and the activity he is undertaking to qualify as a Competent Person as defined in the 2004 Edition of the Australasian Code for Reporting of Exploration Results, Mineral Resources and Ore Reserves. Dean Carville consents to the inclusion in the statement of the matters based on this information in the form and context in which it appears.
Lundin Mining is an active explorer for minerals and a fast growing producer of base metals, with a focus on zinc. The company owns three mines, two in Sweden, Zinkgruvan and Storliden, and one in Ireland, Galmoy. The exploration portfolio is extensive and it also includes interests in international ventures and development projects. Lundin Mining has its head office in Vancouver, Canada, and its executive management team in Stockholm, Sweden. Lundin Mining's shares are listed on the Toronto Stock Exchange and its SDRs on the Stockholm Stock Exchange O-list.
News source: ccnmatthews.com


Print this news
---
Business news archive for 27 September' 2006.
Business news archive for September' 2006.
Business news archive for 2006 year.