Business news
S Group Unveils Plans for Hotel, Health Spa
01.19.2007 11:34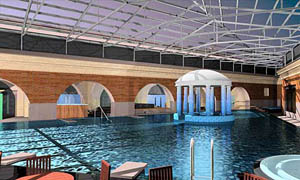 By Yekaterina Dranitsyna
Staff Writer
The Finnish company S Group will open a five-star spa hotel on Vasilievsky Island this summer. On Jan. 5, SOK signed an agreement with Holiday Club Resorts acquiring business operations of the Holiday Club St. Petersburg spa hotel, which is being built at Birzhevoy Pereulok.
Total investment in the hotel and spa is 60 million euros. At a press conference on Tuesday managers of both companies expressed confidence in their ability to outdo competitors in the hotel and health and beauty treatments markets.
"We know that Pribaltiiskaya Hotel has an aquapark, but it is for the most part aimed at children. Our concept is not focused on slides and children's entertainment. We follow the classic concept of body care and treatment," said Juhani Jarvenpaa, President and CEO of SOK Holding Oy.
The total area of construction is 25,000 square meters. The hotel will be located inside an elite residential and office complex that is being constructed by local company LenSpecSmu.
The hotel will offer 271 double rooms, 5 suites and 26 timeshare apartments for two to six people. The complex will include two restaurants, four bars and a cafe, a bowling alley and a gym, 12 conference halls and 30 heated parking spaces.
The hotel is being constructed from scratch, while the spa center will be located in a former warehouse built in the 19th Century. The spa will offer health and beauty treatments, nine types of sauna, jacuzzis and a 165-square meter pool.
According to the 20-year investment agreement, SOK will manage the business operations of the hotel, spa and restaurants while the premises will remain the property of London & Regional Properties.
Holiday Club Resorts will focus on developing timeshare business. "We set ourselves the goal of creating the largest chain of timeshares in Europe by 2010," said Kimmo Hellgren, senior vice-president for sales and marketing at Holiday Club Resorts Oy.
At the moment, Holiday Club Resorts owns timeshares in Spain, Sweden and in 12 locations in Finland serving over 30,000 clients. Following the new strategy, Holiday Club sold 6 hotels in Finland to S Group last year.
In October, S Group announced the construction of two four-star hotels in St. Petersburg — Sokos Hotel Vasilievsky also located on Vasilievsky Island (255 rooms) and Sokos Hotel Olympic Garden on Moskovsky Prospekt (348 rooms).
In this project, the spa was designed to bea special attraction for the hotel. It will be capable of serving 400 people at a time. The managers expect that about 1,500 people will visit the center daily.
"Hotel guests will be only a small part of clients. We aim to attract city residents. We know that hydrotherapeutic procedures are very popular among Russians. In Finland, we had to hire Russian personnel," Jarvenpaa said.
A day at the spa will cost from 25 euros to 30 euros. A room in the hotel will cost 240 euros and 420 euros in the low and high season respectively. LenSpecSMU will complete construction of the hotel in June. The spa will start operating in the fall.
"Locating a hotel of such a class in the historical center of the city is the only possible option. Vasilievsky Island suffers from problems with transport access, however historical architecture could compensate for the inconvenience for the hotel clients," said Sergei Bogdanchikov, head of the consulting department at the London Consulting and Management Company.
Bogdanchikov saw constructing the hotel from scratch as an advantage. "It will provide maximally convenient planning and technical equipment, which is impossible if a historical building is being reconstructed," he said.
Bogdanchikov estimated the pay-back period at 10 years to 11 years and the profitability of the spa at about 15 percent a year.
It could become the first European standard spa in the city. Nevertheless, Bogdanchikov said that the profitability of the complex would be lower compared to shopping centers because of larger expenses for equipment and qualified personnel.
Other experts questioned the viability of the concept.
"If the hotel is constructed with a wellness spa it could never pay off," Nikita Savoyarov, head of tourism consultancy ET Consult, said.
"It would be rational in countries that have a long tradition of consuming wellness spa services, like Spain, Italy or France," he said, adding that Russia lacks such a culture, and local sales managers are not used to selling such services.
Savoyarov indicated that educating personnel or "importing" them from abroad would be an expensive exercise.
Considering price policy most of the city residents will prefer local sanatoriums that can be found in abundance in St. Petersburg and its suburbs, he said.
"St. Petersburg has a deficit of good pools, but in this building the pool is likely to be small and narrow. Electricity and water purification will cost a lot," Savoyarov said.
He also considered the location inconvenient. "That's not the place to build a five-star hotel," he said.
News source: times.spb.ru


Print this news
---
Business news archive for 19 January' 2007.
Business news archive for January' 2007.
Business news archive for 2007 year.