Business news
Making Good Use Of Efficient Finns
01.31.2007 13:16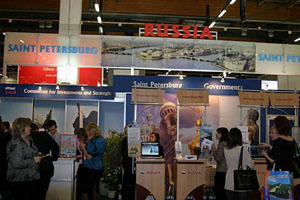 By Nikita Savoyarov
Special to The St. Petersburg Times
Quality was the name of the game at the Nordic Travel Fair, Matka, held at the Helsinki Fair Center Jan 19-21, as Finland seeks to take advantage of the booming business of international tourism, offering valuable lessons to St. Petersburg in the process.
The largest travel event in the Nordic countries, Matka 2007 played host to 1150 domestic and foreign destinations and travel service providers from 69 countries. The theme of the fair was embedded in the slogan "Quality in traveling for everyone."
The Finnish government has allotted tourism a significant role in its economy, something first embodied in the National Strategy for Tourism and afterwards through adoption of the Finnish Tourism Policy last December.
Such a strategy is based on the very favorable growth of international tourism — an average rate of 4.5 percent for the first eight months of 2006 according to the United Nations World Tourism Organization. If growth across Europe is only three percent then in Northern Europe it reaches six percent and in Finland ten percent. Finland's National Tourism Strategy has set an annual growth target of 5 percent.
In Finland the state puts forward a total of 261 million euros ($327 million) annually to promote the travel industry. This money is spent on both domestic and foreign marketing, marketing congress and meeting services, promoting incentive trips, PR, and general marketing.
One of the aims of Finland's Official Tourism Strategy is to increase the amount of overnight stays from 10 million to 25 million.
One way to make this possible is through sales of traditional, quality local products. In evidence at the fair were many Finnish stands with beverages, food and souvenirs. Another way is through hosting global events like the Eurovision Song Contest in May or the Tall Ships Race in Kotka in July.
Growth rates for tourism in northwest Russia are similar to those of Northern Europe and this is where the Finnish experience can serve as a useful example.
St. Petersburg was much better represented this year than at Matka 2006. Its stand, organized by the Committee for Investments and Strategic Projects of City Government, had already appropriated a more central location compared to the "forgotten" corner of the hall it once occupied. It also boasted a completely new image: a new, bigger design, with new items on display.
Alongside the main exhibitor, the City Tourist Information Center, were different travel companies, mini-hotels, Mini-hotels Union and The Hotels Club. The stand attracted visibly more trade visitors than before.
This presence seems linked to successful implementation of the City tourism development program realized by the Boston Consulting Group (BCG) and designed to attract five million foreign tourists a year from 2010.
While this might be feasible it is badly in need of the support of the transport service providers, as formulated in the Finnish Strategy (fluent accessibility, a functional infrastructure). Unfortunately, no Russian carriers were in evidence at the fair.
The City Government might cooperate with foreign companies already present in St. Petersburg, such as low cost carriers like Germanwings and AirBaltic. Germanwings will this summer increase the frequency of its flights between St. Petersburg and Germany, said Marc-Christian Gerdes, Country Manager for Northeast Europe.
The Latvian carrier has just opened its office in St. Petersburg to develop connections between St. Petersburg and the Baltic states, said Inese Skreja, representative of AirBaltic.
This cooperation could be very fruitful, but effects will be limited unless the Russian visa system is greatly simplified. New immigration regulations coming into effect after January 15 could have a seriously detrimental effect on incoming tourism and, almost inevitably, go against the Finnish Strategy that establishes a "regulated environment supportive of businesses."
News source: sptimes.ru


Print this news
---
Business news archive for 31 January' 2007.
Business news archive for January' 2007.
Business news archive for 2007 year.