Business news
Starbucks Reveals Plans to Expand to Russia in Summer 2007
02.07.2007 15:04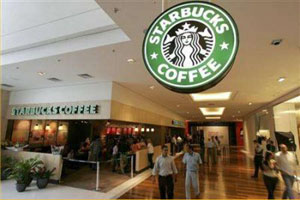 U.S. coffee giant Starbucks has announced plans to open its first coffee shops in Russia later this year. This summer ten coffee shops will start operating in St. Petersburg and Moscow, Bloomberg news agency reported. The stores' franchisee will be Kuwaiti retailer M.H. Alshaya.
"We'll start opening our first stores in Moscow and St. Petersburg in August, then review expansion plans every six months," Bloomberg cited Mohammed Alshaya, CEO of M.H. Alshaya, as saying.
At the end of the last year Jim Donald, Starbucks CEO, said the chain would add 2,400 stores worldwide in 2007. The firm's target is to attain a total of 40,000 stores around the world.
And Russia presents "significant opportunities," according to Starbucks chairman Howard Schultz. Starbucks has opened its first coffee shops in Brazil and Egypt. By the summer it will enter the Russian and Indian markets, Howard Schultz said to Bloomberg.
At the moment Starbucks operates over 13,000 shops across the world. In the last quarter of 2006 Starbucks Corporation reported a net revenue of $2.4 billion, an increase of 22 percent. Net earnings accounted for $205 million, an increase of 18 percent. The company opened 728 stores during that period.
M.H. Alshaya is a leading international franchise retailer. According to its web site, the company operates 1,200 stores, trading 42 brands in 13 countries. M.H. Alshaya operates stores such as Body Shop, Next, Mothercare and River Island. Last year its sales amounted to $1.2 billion.
In Russia the Kuwaiti company is Mothercare's franchisee. M.H. Alshaya has spent $40 million on acquisitions and new infrastructure in Russia.
"We know retail, and where we see an opportunity we're prepared to take the risk for our partners by investing in expansion ourselves," Bloomberg quoted Alshaya as saying.
A local market expert was positive about the prospects of Starbucks in Russia, though he noted that the company has to take local conditions into account to be successful.
"Moscow, St. Petersburg and other Russian cities with populations over one million people have far fewer coffee shops than their western counterparts," Mikhail Podushko, marketing director at WorkLine Research, was quoted by St. Petersburg Times as saying.
According to WorkLine Research data, about 55 percent of citizens in St. Petersburg visit coffee shops at least once a month. In Moscow this figure is 50 percent. The largest chains in Russia are Coffee House and Shokoladnitsa (Chocolate Maker). In St. Petersburg, Idealnaya Chashka (Ideal Cup), Marko, Republic of Coffee and Sladkoyezhka (Sweet Tooth) are the most popular.
Despite high competition in St. Petersburg's center, there is room for expansion in the suburbs, Podushko said. "The market has great potential. Besides, coffee shops are a convenient place for meeting. Their growing popularity is related to the lifestyle of the young," he said.
"Starbucks obviously has a strong brand, the technology and financial resources. The question is — what type of coffee shop will they choose to launch. If they offer take-away coffee and no smoking zones, I seriously doubt that they will become popular. Having said that, for young people Starbucks is a legend," Podushko said.
News source: mosnews.com


Print this news
---
Business news archive for 07 February' 2007.
Business news archive for February' 2007.
Business news archive for 2007 year.