Business news
Skanska Leaves Russia
02.21.2007 15:53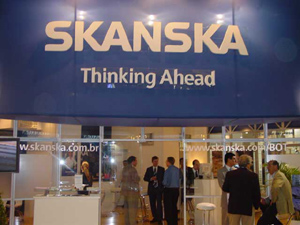 By Yekaterina Dranitsyna
Staff Writer
Swedish construction concern Skanska is quitting the Russian construction market on mounting financial losses, Interfax reported Monday citing the Dagens Industri newspaper.
Skanska "lost dozens of millions of Sweden Kronors" in Russia, Peter Gimbe, senior vice president for corporate communications at Skanska AB, told Dagens Industri. This year Skanska will leave the Russian market and focus on countries more profitable for its operations — Poland and the Czech Republic.
"We are leaving Russia. We still have a few projects that we will complete. We will fulfill all our obligations," Peter Gimbe confirmed in a telephone interview Monday.
"Business in Russia was not profitable. We have now sold all our companies in Russia. There remains only those projects that we are finishing," Gimbe said.
Russia is not the only emerging market that has been rejected by the Swedish concern. Skanska has already pulled out of the Chinese and Indian markets.
In St. Petersburg the company operated through its subsidiary Peterburgstroi Skanska. Founded in 1997 on the base of a construction association, Peterburgstroi became a subsidiary of Skanska in 2002.
By that time Peterburgstroi was one of the leading construction companies in the city realizing commercial projects and projects financed from the state budget.
The company had completed over 40 projects in Russia, but will struggle to continue now that Skanska has left, said Oleg Barkov, general manager of Knight Frank in St. Petersburg, who previously worked for Petersburgstroi Skanska.
The press secretary of Peterburgstroi Skanska, Yulia Gordiyevskaya, confirmed that by March 1 the company will complete a residential building at the junction of Leninsky Prospekt and Ulitsa Desantnikov, while its elite residential building at Morskoi Prospekt is due for completion by April 30, she said.
"After that the company will quit the market," Gordiyevskaya said.
"This decision was unavoidable. Despite the huge effort we have put into developing the St. Petersburg subsidiary of the company, it was impossible in the dynamic Russian market to exercise the same classic corporate procedures that Skanska successfully used in more stable and predictable markets," Barkov said.
"Russia requires quick intuitive decisions and a familiarity with local features, and a lack of flexibility was fatal for Skanska in this highly competitive market," he added.
"In Moscow, a market that is ten times larger than St. Petersburg and experiencing a construction boom and huge demand for development and engineering services, similar reasons prevented Skanska from achieving better results," Barkov said.
Other real estate experts agreed. Dmitry Zolin, managing partner of London Consulting and Management Company, indicated that competition in the St. Petersburg market is particularly high and profitability associated with mid price residential construction is steadily decreasing.
"Eight percent to ten percent profitability makes this business not quite as attractive as it once was," Zolin said.
However, he indicated that these reasons were in themselves unlikely to make Skanska leave the market, suggesting that the company's financial troubles had some "inner source."
"All those external factors would not force such a strong company out of the market. We should not expect a mass outflow of foreign companies from residential construction in St. Petersburg," Zolin said.
"Any foreign company could operate profitably in St. Petersburg, and the city's construction industry is no exception," said Mikhail Bimon, director for marketing and strategic development at Peterburgskaya Nedvizhimost.
"However, to be successful the company should clearly understand what it has to offer to the city and what it plans to get back. It should be familiar with specific features of the local market and have a good team of professionals. And, of course, it has to have financially sound underpinnings to realize any kind of project," Bimon said.
News source: times.spb.ru


Print this news
---
Business news archive for 21 February' 2007.
Business news archive for February' 2007.
Business news archive for 2007 year.