Business news
Bank St. Petersburg To Finally Settle Down
02.28.2007 16:17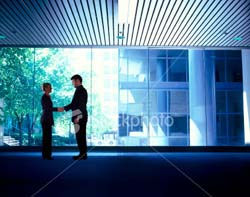 By Yekaterina Dranitsyna
Staff Writer
A 25-floor office building for Bank St. Petersburg is planned as the architectural center of an "A-Class" business area comprising 150,000 square meters of office space to be complete by 2012, one of the largest projects of its kind in the city, developer Setl City said last week in a statement.
Bank St. Petersburg and Setl City have already begun construction at Malookhtinsky Prospekt to the east of the city center on the north side of the Neva River, near to the proposed site of the new Gazprom City development. As well as the new building for the bank, the area will also include more than ten office buildings of eight to nine floors.
"The office areas will be in demand because of the deficit of 'A-Class' business centers in St. Petersburg," general director of Setl Group Vasily Selivanov said.
"All existing 'A-Class' office areas in the city are accumulated in separately located business centers. So our business area will have the additional competitive advantages of centralized planning and a unified concept. It will offer large office areas, a comfortable location, parking spaces, and good access to transport to the city center," Selivanov said.
Selivanov noted that the business park will be completed sooner than other projects of a similar type that have been announced.
Plans for the area were proposed by St. Petersburg architectural bureau Yevgeny Gerasimov & Partners and German planning bureau Choban & Associates.
"It's not by accident that we've chosen this place for construction of the new office center. There are not only geographical and transport advantages to the area but there is also the possibility of creating a unique business environment for our clients and the partners that are attracted by us," Bank St. Petersburg Chairman Alexander Saveliyev said.
"We are confident that this project will modernize the Neva Embankment and fit well into the city's architecture," he added.
Setl City is part of Setl Group holding, and, according to the plan, another subsidiary of Setl Group — Praktis — will manage and maintain the office areas after they are completed.
A real estate expert said that Setl City should be in demand considering the announced features of the project and the market.
"Existing height-limits considerably affect the pay-back period for construction projects and their profitability," said Dmitry Zolin, managing partner of London Consulting & Management Company.
The average profitability of business centers in St. Petersburg is 14 percent to 17 percent a year. A normal pay-back period varies between six years and eight years, Zolin said.
"The aim of Setl City to construct a 25-floor business center is quite natural. By doing so they could shorten the pay-back period and increase profitability because of larger areas available for lease," Zolin said.
"Most office areas offered for lease in the city do not meet tenants' expectations in terms of quality and technical characteristics. The trend is that the tenants consider not only the rent but also the range of services. 'A-Class' business centers will surely be in demand in the next two to three years," Zolin said.
A location outside the city center is not a disadvantage for an 'A-Class' business center if it can easily be reached by car, he said.
"The obvious advantage of business centers constructed from scratch like Setl City is their technical characteristics. Such centers offer high-quality technical equipment, which is not always possible when a historical building is reconstructed into a business center," Zolin said.
Total investment in the project is estimated at $430 million, with the first part of the project — including the offices of Bank St. Petersburg — to be completed by 2010. Completion of the whole project is due by 2012.
News source: times.spb.ru


Print this news
---
Business news archive for 28 February' 2007.
Business news archive for February' 2007.
Business news archive for 2007 year.