Business news
Advising the Graduate
02.28.2007 16:26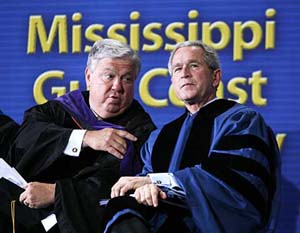 By Yekaterina Dranitsyna
Staff Writer
Matvei Pirozhenko, head of the St. Petersburg branch of Pedersen & Partners executive search firm, suggested that the main difference between MBA graduates and candidates with similar work experience but no MBA diploma comes down to the salary. Managers believe that as Masters of Business they will ultimately earn more money.
Tatyana Polovnikova, senior consultant at Consort Petersburg, estimated this "extra reward" at 30 percent to 40 percent of the average salary offered for a particular job.
Another recruiting expert agreed. "Regardless of the industry, MBA graduates differ from other candidates in terms of their expectations of a higher compensation package. And it's not surprising. People invest in additional business education to increase their market value," said Alexei Zelentsov, regional director for Northwest at Kelly Services.
What they choose
MBA graduates try to establish their worth by taking a challenging position in a foreign company, recruiters said.
"MBA graduates prefer jobs that have to deal with strategic management and business restructuring. Work experience and basic education usually define the industry, though MBAs might be found in any company," Polovnikova said.
"Western business school graduates focus on large western companies. Managers who studied at IMISP, the Stockholm School of Economics in Russia and other Russian business schools obviously consider both western and Russian companies. I know several people who have taken jobs in Kiev," Polovnikova said.
Pirozhenko agreed that "MBA graduates are motivated to take top positions in western companies where they can make best use of their knowledge."
Working in a foreign company also gives the graduates of serious business schools the opportunity to maintain a good command of English," he said.
"If the employer funded the studies, the MBA graduate keeps working in the same company for two to three years after graduating, otherwise they must compensate for the expenses incurred by the company," Pirozhenko said.
Students who paid for the education themselves show interest in different companies of various sizes, he said, but mainly foreign.
Who hunts them
According to Begin Group, in St. Petersburg 36 percent of managers with MBAs work in finance, 35 percent in marketing, 19 percent in sales and nine percent in logistics.
The career path of most MBA graduates is more related to the companies' demand than their own preferences, Zelentsov indicated.
"Most MBA graduates change job within a year after graduation, even if they started the course with the intention to keep working for their current employer. Obviously, most of them would like to work in a large Russian or western company, but they do not always succeed," Zelentsov said.
On the contrary, MBA graduates are mainly in demand in Russian companies, he noted.
"Foreign companies are looking for good performers at any managerial level, from the bottom to the top. Their business processes have been perfected over many years in many different countries. They do not need any restructuring," Zelentsov said.
"Russian companies, on the contrary, often grow to a size where they need not only good management but also serious or even revolutionary change at all levels. And that is what MBA graduates are good for," he said.
Another expert shared this view. "The recent trend is that Russian monopolists, like Power Machines, Russian Railways and Interros, hunt strong managers with serious experience and offer them twice the salary offered by western employers," Polovnikova said.
She did not consider that MBA graduates overvalue themselves, since a higher salary goes hand in hand with more work experience.
"Russian monopolists hunt professionals who've had serious work experience in large western companies. They are not necessarily MBA graduates — the main thing is a systematic mindset and the ability to create correct business processes. And MBAs usually think in a more systematic way," Polovnikova said.
Ultimate outcome
Recruiters have to give special attention to MBA graduates. "As a rule, MBA graduates prefer to deal with more experienced and older consultants," Polovnikova said.
However, self-confidence can easily lead managers into a trap, Zelentsov said. "Sometimes, after graduating the manager tries to dismantle everything in the company and build it up again just like he was taught at business school," he said.
Nonetheless, Zelentsov was positive about the prospects for MBAs. "There are no salary price lists for MBAs and other managers, but an MBA diploma is always a serious argument in favor of increasing compensation," he said.
"I know employers who do not consider MBA an advantage, mainly because the candidate demands more money. But usually they are Russian companies. Having said that some firms in the CIS reject candidates without an MBA diploma," Pirozhenko said.
"If the company uses business school methods, it considerably increases the chances that an MBA graduate will get a job there," Pirozhenko said.
"I know only one industry where an MBA diploma is an undisputable advantage, even if the candidate lacks experience — corporate finance, mergers & acquisitions," said Anna Bogina, Group Leader in the Finance and Banking Department at ANCOR.
"The St. Petersburg market often fails to offer large scale projects and high salaries that could compensate money spent on business education. Usually MBA graduates find jobs in Moscow," she said. Though normally employers would not pay a higher salary simply for an MBA (without corresponding experience), there are rare exceptions. Bogina gave an example of a foreign company that acquired a business in Russia and started restructuring.
"They needed a mediator — a person who understood western management principles and could explain the local environment to foreign managers," she said.
According to Begin Group statistics, only 37 percent of companies in St. Petersburg employ MBA graduates and only 15 percent of employers send their personnel on MBA courses.
Around 77 percent of companies employing MBAs hire them only as top managers. 29 percent of them employ one MBA manager, with 41 percent employing two or three managers and 30 percent four or five managers.
Only five percent of companies indicate an MBA as a must for particular jobs, 37 percent consider it an advantage for a candidate. However, 24 percent of employers stated that an MBA diploma does not influence the choice, if a candidate has sufficient work experience, while for 34 percent of employers an MBA diploma is of no importance in any case.
35 percent of employers stated that an MBA diploma does not influence career advancement in their company, 45 percent said it could, if the employee also becomes more effective. Only 20 percent of employers said that MBA would positively affect career advancement.
News source: times.spb.ru


Print this news
---
Business news archive for 28 February' 2007.
Business news archive for February' 2007.
Business news archive for 2007 year.