Business news
Retail Market Developing at Fast Pace
03.07.2007 16:01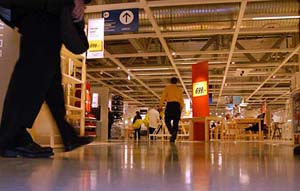 By Yulia Nikulicheva
Real Estate Quarterly
St. Petersburg's retail market today is one of Russia's most dynamic. Growing personal incomes coupled with a lack of quality shopping space in the city mean that developers and retail chain operators, both Russian and international, are actively trying to establish their presence on the country's second biggest market.
However, for a city of 4.6 million inhabitants, St. Petersburg's quality market remains very small and is currently at a very early stage of its development. In mid-2006 the total area of the city's international-standard shopping centers (i.e. at least 5,000 square meters in size, with a quality selection of tenants and managed as a single project) was only 370,000 square meters, while vacancies there were very low. In addition to that, street retail along the city's main shopping corridors (Nevsky Prospekt, Bolshoi Prospekt, Ligovsky Prospekt and Sadovaya Ulitsa) is currently at 21,000 square meters.
This means that in today's St. Petersburg there is only 80 square meters of quality retail space per 1,000 inhabitants — this is one of the lowest figures in Europe. For comparison, Warsaw has 600 square meters, Madrid — 300 square meters and Berlin — 350 square meters. By the amount of quality retail space per 1,000 inhabitants St. Petersburg is not only behind Moscow with 120 square meters, but Samara and Kazan as well and is now on the same level as the majority of other cities with a population of 1 million or more, such as Yekaterinburg, Nizhny Novgorod or Volgograd. Taking the city's size and importance into account, it becomes obvious that St. Petersburg has a huge, yet unrealized, retail market development potential.
Like in any other city, the retail space on offer in St. Petersburg is not limited to shopping malls and boutiques on main shopping streets. The entire market, which also includes open-air marketplaces, kiosks, neighborhood grocery stores and pavilions, is estimated at 4 million square meters. As the city develops and local consumers become more discerning, demanding better service and a better choice of quality retail, the share of sub-standard properties will decrease. In terms of the sophistication of its shopping centers and the overall development of the market, St. Petersburg is now three to five years behind Moscow, but is quickly closing the gap and the situation is likely to change dramatically in the next 1 1/2 to 2 years.
A number of large-scale Western-standard shopping center projects currently under development — some of these concepts are not present in Moscow yet — will make St. Petersburg one of the retail capitals of Russia. According to our estimates, by late 2008 the amount of quality shopping center space in the city may reach about 1.4 million square meters (compared with 2.7 million square meters that Moscow is scheduled to have in two years).
Both international and Russian developers are present on the city's market today. Among them are Turkey's Ramenka, with its Ramstore hypermarkets, and Swedish furniture giant IKEA, which opened its first store in St. Petersburg in 2003. A number of strong local players are very active as well — for example, the Adamant company built the city's first shopping centers in the 1990s and now controls a portfolio of 11 malls citywide. Another St. Petersburg-based developer, Makromir, has recently opened the Frantsuzsky Bulvar (French Boulevard) shopping center and is planning a number of large-scale projects, including City-Mall, Rodeo-Drive and Kaleidoscope, in the next two years.
The growing personal incomes in the city, while less than half of Moscow levels, continue to stimulate consumer demand. City inhabitants' consumer preferences are also changing gradually, which is leading to the emergence of new shopping formats with a variety of concepts and a diversified set of brands and services. Despite the fact that the veteran of St. Petersburg's shopping centers — Balkansky — was opened by Adamant as early as 1994 near Kupchino metro station, it wasn't until 2002-2003 that development of Western-style malls began in earnest. Among this first wave of shopping centers opened in that period are Merkuri (GLA 65,000 square meters) at Ulitsa Savushkina, Zanevsky Kaskad (GLA 30,000 square meters) and Sennaya (GLA 30,000 square meters) at Ulitsa Efimova.
It is worth noting that the majority of first-generation shopping centers in the city — not unlike their counterparts that opened in Moscow in the mid-to-late 1990s — are typically characterized by unprofessionally thought out concepts and a poor selection of tenants. As the market evolves, such projects will be gradually pushed off the market or will have to undergo reconstruction.
Nevertheless, a number of high-quality, international-standard projects with effective concepts and a quality tenant pool opened in the city in the last two years. Among such developments are Frantsuzsky Bulvar (GLA 11,000 square meters), which opened at the intersection of Bulvar Novatorov and Leninsky Prospekt in 2005; Udelny Park (GLA 28,000 square meters), developed by Ramenka with Ramstore hypermarket as an anchor tenant; Planeta Neptun (GLA 28,800 square meters), featuring an oceanarium; and Grand Canyon (GLA 56,600 square meters), with tenants such as Sedmoi Kontinent, M-Video and Cinema Park. In 2006 developer Adamant finished the conversion of the historic Warsaw train station into a modern shopping center called Varshavsky Express (GLA 28,800 square meters).
The majority of existing shopping centers in St. Petersburg are characterized by a convenient location next to a metro station, an anchor tenant (typically a supermarket), two- or three-level underground parking and a gross leasable area of no more than 30,000 square meters.
The opening of two Mega malls — Mega Kudrovo (GLA 145,000 square meters) and Mega Parnas (GLA 120,000 square meters), both of which opened in late 2006 — revolutionized the market. The projects, developed by Sweden's IKEA, are based on the company's successful Mega concept, first tested in Moscow in 2002. The two Megas have become St. Petersburg's first super-regional shopping center projects (i.e. having a city-wide significance due to their sheer size) and have set new quality standards for all the future developments in the city.
Following Mega Kudrovo and Mega Parnas, there are a number of large-scale projects planned for the next two years. French construction giant VINCI is building the Raduga shopping center (GLA 75,000 square meters) on Prospekt Kosmonavtov near Park Pobedy metro station; its anchor tenants will include Real hypermarket and German DIY store OBI. City Mall (GLA 70,000 square meters) is planned for Prospekt Ispytatelei, while developer Sistema Hals will build Leto shopping center (GLA 80,000 square meters) on Pulkovskoye Shosse by 2008. The biggest planned project is undoubtedly Ligovsky shopping center (GLA 95,000 square meters) to be erected on Ligovsky Prospekt next to the Moskovsky train station.
As the new generation of shopping malls — multifunctional projects with a large leisure component (cinema, bowling, children's entertainment center, etc.), sometimes divided into several phases of different uses — enters the market, the city's shopping center portfolio will become more diverse, while buyers will become more demanding as far as quality and selection of brands is concerned.
Like in Moscow, St. Petersburg's historic center is the most prestigious and expensive location for a shopping center. However, new construction is severely limited by the lack of available land plots and existing restrictive regulations limiting the reconstruction of historic properties. Sennaya, Pik, Varshavsky Express and Planeta Neptun are among the very few shopping centers that opened in the center in the last three years. The Ligovsky project will join their ranks by 2009.
Large-scale projects, characterized by a significant leasable area, several big-name anchor tenants and multi-level parking, will be predominantly concentrated in the suburbs, in particular along the KAD (the city ring road). Northern St. Petersburg is currently being developed most actively due to its high population density. However, existing transportation problems resulting from poor city planning are hampering this development. However, City Hall has announced plans to invest heavily in road infrastructure, in particular in the construction of several radial roads to alleviate traffic congestion in the center.
St. Petersburg's fast economic development is driving the retail market's expansion: Bigger and more ambitious projects are being realized to satisfy the growing consumer demand. This market's active development on the back of the stable macroeconomic situation and the steadily increasing personal incomes in the region is making investors and developers alike start considering St. Petersburg as a viable alternative to Moscow, which until recently had been receiving the lion's share of all retail investment in the country.
Yulia Nikulicheva is Associate Director and Head of Research at Jones Lang LaSalle Russia & CIS.
News source: times.spb.ru


Print this news
---
Business news archive for 07 March' 2007.
Business news archive for March' 2007.
Business news archive for 2007 year.