Business news
St. Petersburg Stevedore Snapped Up
03.14.2007 15:50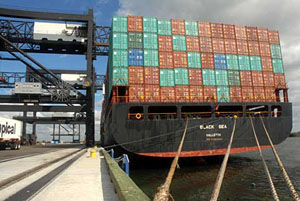 Severstaltrans group of companies has completed the acquisition of the St. Petersburg-based Petrolesport open joint-stock company, Prime-Tass news agency reported Tuesday referring to a statement from the Severstaltrans press service.
Though neither company would reveal the cost of the deal, experts believe the deal could cost Severstaltrans over $100 million.
Petrolesport is one of the largest stevedoring companies in St. Petersburg seaport. Its business is the shipment of containers, refrigerators, general freights and other types of freight. The terminal occupies 110 hectares of seaport territory.
"We value Petrolesport as a company that has serious growth potential, mainly in container shipment," Nikita Mishin, a member of the directors' board at Severstaltrans, was cited in the statement as saying.
"Severstaltrans never left the container shipment business. We broke our partnership with First Quantum but in fact it was a separation of assets. The acquisition of Petrolesport was absolutely in accordance with our plans to expand Severstaltrans's containership business," he said.
Separating the assets of former National Container Company, Severstaltrans acquired the stake of First Quantum at the container terminals of Vostochny and Vladivostok seaports. First?Quantum?in its turn acquired a 50 percent stake in First Container Terminal and Baltiisky Container Terminal from Severstaltrans.
Petrolesport has sufficient territory and technical opportunities to increase capacity in the shipment of containers as well as other types of freight, mainly refrigerators.
The company's investment program aims to increase the volume of container shipment up to 1.5 to two million TEU (twenty-foot equivalent units) a year. Last year Petrolesport increased shipments 60 percent up to 313,000 TEU.
"We are considering various measures that would develop the terminal's infrastructure. At the same time we think it very important to provide the terminal with the technical opportunities for growth and also to decrease pressure on city infrastructure," Eduard Chovushan, general director of Petrolesport, was cited in the statement as saying.
The company is considering several sources of funding. A share offer is one option, he said.
Chovushan expects container shipment to remain a fast-growing segment of the Russian transport market.
"According to our assessment, a controlling stake in Petrolesport should cost over $100 million," said Roman Semchishin, senior expert of FINAM investment company.
Semchishin saw this deal as favorable for Severstaltrans.
"First of all, the company is taking a new step towards strengthening its position in the container shipment market. If the new owner provides sufficient investment, Petrolesport could increase its capacity by several times and become the largest container terminal in Russia," he said.
"As a result, capitalization of the company could increase several times over," Semchishin said.
Severstaltrans is the leading private transport service operator in Russia, CIS and the Baltic states. The group comprises over 20 companies offering a full range of transport and expedition services including sea, track and railway transportation.
At the moment Severstaltrans is carrying out an investment program for the development of container terminals in the Far East — in the ports of Vladivostok and Vostochny.
The Petrolesport joint-stock company was registered in 1992. It was created on the base of the former transport union Lenmorlestorgport. Authorized capital of Petrolesport is 47.55 million rubles ($1.83 million). Before the deal Akvator company owned 50.04 percent of Petrolesport shares, Spree Cross Holding Inc. owned 20 percent, Ixworth Investments Limited owned 18.15 percent and Containers Fines Oy owned 6.8 percent.
Severstaltrans executives were elected to join the Petrolesport board at a special meeting of the company's shareholders last week.
News source: times.spb.ru


Print this news
---
Business news archive for 14 March' 2007.
Business news archive for March' 2007.
Business news archive for 2007 year.