Business news
Aricom Acquires Local Expertise in Mining
03.21.2007 15:37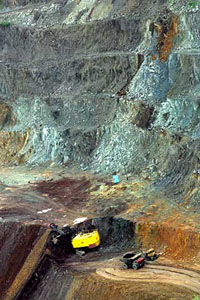 By Yekaterina Dranitsyna
Staff Writer
Aricom Plc., an Anglo-Russian developer of mineral resources, has acquired a majority stake in the St. Petersburg-based mining design institute OJSC Giproruda, the group said Friday in a statement.
Giproruda's key area of specialization is iron ore. Aricom sees it as a specific benefit in terms of the analysis and design of a number of the group's future and existing development projects. Giproruda will continue its work with other clients but will be given the opportunity to focus on Aricom's portfolio of projects.
"Aricom's project portfolio now contains a sizeable amount of reserves and resources which are all located within 500 miles of the Russian Chinese border," said Jay Hambro, Chief Executive of Aricom.
"We are already a client of Giproruda and their position, as a leader in Russian mine design and development, will significantly enhance the group's ability to exploit the massive potential inherent in our assets," he said.
According to Giproruda it currently has a 60 percent share in the project design services market in the Russian mining industry. As well as plans to expand its operations within the CIS, Giproruda is advancing its international program and has signed contracts on a number of projects.
Employing 148 people, Giproruda specializes in the analysis and design of mining projects. Giproruda has experience in the design of pits and mines in extreme mining, geological and climatic conditions.
Other areas of expertise include the development of efficient mining technologies, project repair base layout, design and transportation services, the repair of technical equipment, storage facilities and the design of administrative and domestic facilities.
"With Kuranakh nearing production, Aricom's next task is to bring on board two very large iron ore projects – with Giproruda's wealth of experience in iron ore, I believe there will be significant benefits in them becoming part of our group," Hambro said.
Aricom has agreed to acquire a 68.49 percent holding in OJSC Giproruda for 211 million rubles ($8 million) conditional on the Russian Anti-Monopoly Service's approval.
"In an environment where employing critical engineering expertise can prove challenging, this deal ensures Aricom's access to the necessary set of skills to develop the company's expanding asset base," JP Morgan Cazenove, one of the U.K.'s leading investment banks, said Friday in a memo following the purchase.
The note categorises Aricom as "outperform."
Among the most important of Aricom's activities analysts listed the recent acquisition of the Garinskoye iron ore mine. "Our preliminary valuation of Garinskoye would almost double the current NPV (net present value) once incorporated," the memo from JP Morgan Cazenove said.
"There is clearly enormous potential value currently unrecognized by the market within Aricom," the analysts said.
Aricom was established in September 2003 to develop projects in the north west of the Amur region, in Russia's Far East. These projects are set to service the Chinese and Russian commodity markets.
Aricom currently operates three projects in the Amur region and the adjoining Jewish Autonomous Region — Kuranakh, K&S and Bolshoi Seym — which have combined estimated reserves and resources of over one billion tons of iron ore and ilmenite ores.
The deposits' location offers a logistical advantage, being close to the Trans-Siberian and Baikal-Amur Magistral railways.
In 2005, 700 million tons of iron ore was shipped globally, of that 300 million was shipped to China. It is currently estimated that by the end of 2006 China imported 300 million tons of ore with the aim of facilitating demand for steel production.
Giproruda has built and reconstructed about 200 mining enterprises in Russia, Kazakhstan and Transcaucasia. The institute has designed enterprises, which now work in China, India, Iran, Egypt, Bulgaria and the Balkans. Giproruda reported revenue of $6.8 million for 2006. Operating profit accounted for $1.4 million, profit after tax — $1.5 million, net assets — $3.3 million.
Part of Giproruda's income comes from the lease of its 46 percent share of an office building in St. Petersburg. Giproruda's stake in this building has recently been independently valued at $20.6 million although this number is not included in the above net asset valuation.
Photo: Bloomberg
St. Petersburg's Giproruda is a leader in Russian mine design and development.
News source: times.spb.ru


Print this news
---
Business news archive for 21 March' 2007.
Business news archive for March' 2007.
Business news archive for 2007 year.