Business news
CRAMO to Equip Russia's Builders
04.26.2007 17:08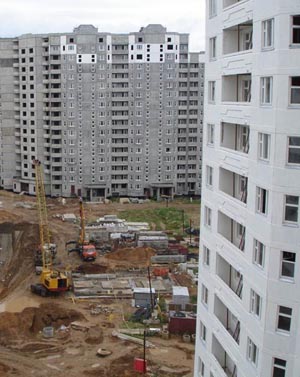 By Yekaterina Dranitsyna
Staff Writer
One of Europe's leading leasers of construction equipment and module premises, CRAMO, is looking for development opportunities in Russia. A new representative office in St. Petersburg is the beginning of the Scandinavian concern's expansion into the Russian regions, the company said Friday in a statement.
CRAMO operates in Sweden, Finland, Denmark, Norway, Poland, Netherlands, Belgium, Lithuania, Latvia and Estonia. Last year CRAMO received an impetus for development when it merged with leasing company Rakentajain Konevuokraamo.
As a result of the merger turnover increased to 402.4 million euros ($543 million) last year, compared to 77 million euros in 2005. Net profit was reported at 42 million euros last year compared to 11.9 million euros in 2005.
"The construction market in Russia is surging both in residential and commercial segments, stimulating development of leasing services. This trend will continue for the time being. We see this market as the most promising," said Vesa Koivula, president of CRAMO.
St. Petersburg is the first region in Russia where CRAMO has started operating. Last year Zenavkaprokat — a former subsidiary of Rakentajain Konevuokraamo — became a CRAMO representative.
At the time of the merger, Zenavkaprokat held about 30 percent of the local market, the company claims. CRAMO has invested about 3.5 million euros to promote the new brand. This year investment will double and keep increasing through 2008.
In September CRAMO plans to establish a second office with equipment site in the city. By the end of 2008 five offices with equipment sites will operate in St. Petersburg.
"In the construction industry in Russia leased equipment accounts for about 30 percent, while in some European countries it accounts for up to 90 percent. We have huge potential for growth in this segment, and Russian construction companies are gradually increasing their share of leased equipment," said Yevgeniy Kaplan, deputy director of the St. Petersburg Union of Construction Companies "Soyuzpetrostroi".
Kaplan indicated that over 50 percent of construction equipment in Russia is outdated. "It's difficult for small construction companies to buy new equipment. For small and medium firms leasing is an opportunity to use modern technologies," Kaplan said.
Igor Luchkov, director of assessment and analytics at Becar Commercial Property St. Petersburg, also welcomed the new player.
"The booming construction industry has resulted in a deficit of particular materials and equipment. Most of the construction equipment has suffered depreciation, both technologically and physically. Falling cranes clearly illustrate the condition of the equipment and negligence towards the requirements of exploitation," Luchkov said.
"The new company will increase competition and civilize the market. Modules will, at last, replace carriages, foreign construction equipment will force out the old machines," he said.
With growing demand for construction equipment, CRAMO has got a good chance to do well in Russia, Luchkov said, "if the company offers a wide range of services, sticks to a moderate pricing policy and exercises a modern approach to clients."
Konstantin Kovalyov, deputy director of Okhta Group, also evoked the recent accidents with building cranes.
"The standards for construction equipment will be revised in the nearest future, and demand for high-quality equipment will increase," he said.
"At the moment in St. Petersburg you can rent only the most expensive equipment, like cranes, while in Finland even hammer drills are rented," Kovalyov said.
"As the competition grows, construction companies will try to minimize their expenses. General contractors could considerably increase their efficiency by renting out equipment," he continued.
Both large and small companies could benefit from the opportunities associated with leasing, he said.
News source: sptimes.ru


Print this news
---
Business news archive for 26 April' 2007.
Business news archive for April' 2007.
Business news archive for 2007 year.