Business news
MDM-Pechat Equips Itself for Foreign Battle
04.27.2007 16:32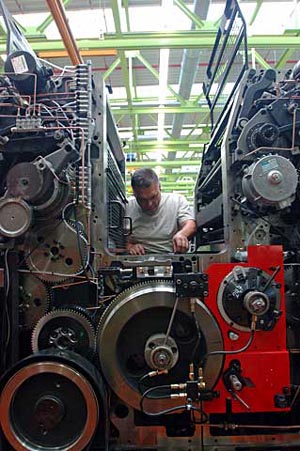 By Yekaterina Dranitsyna
Staff Writer
MDM-Pechat, a St. Petersburg-based printing plant owned by a group of Irish investors, has launched the most cutting edge printing machine in Russia — Lithoman IV. By modernizing its equipment, MDM-Pechat hopes to attract back those Russian glossy publishers that prefer to use Finnish printing plants.
MDM-Pechat invested about $12 million into the project and expanded its production area by 1,000 square meters. Production capacity increased by 50 percent up to 45,000 units of 48 standard A4 pages per hour, the company said this week in a statement.
A number of publishers have already expressed interest in the opportunities created by the new machine, said Tatiana Shved, commercial director of MDM-Pechat.
"They are interested in local printing plants because the production process takes less long and avoids having to go through customs and the related problems. Russian plants are becoming more competitive in terms of the cost of services when compared to western printers," Shved said.
With the new equipment MDM-Pechat has become the second largest polygraphics company in Russia, Shved indicated. "Our main competitors are not Russian printing plants but foreign plants. Now we are no longer behind them either in terms of equipment or in the qualifications of our staff," she said.
The printer appartus Lithoman IV, produced by German company ManRoland, allows the printing of 30 different sizes of magazines up to a very large size, which plant managers consider a significant advantage. The machine decreases the possibility of human error by 90 percent, which is also very important.
Besides Lithoman IV, the new production line is equipped with Kodak's CtP Creo Trendsetter VLF production system and a Gammerler machine for thermo-gluing, as well as Close Loop system for control over the density of color and other parameters.
The growing number of local glossies means MDM-Pechat expects the plant to operate at full capacity 24 hours a day. At the same time production expenses are expected to decrease.
"In fact, increasing production capacity by 50 percent we will have to increase the number of employees by only 10 percent. The structure of production expenses will change, which will result in the best market price for consumers," said Yevgeniy Konyakhin, general director of MDM-Pechat.
Earlier this month the largest polygraphics enterprise in the Urals, Sovetskaya Sibir, also announced it was to invest $20 million into modernization through the purchase of Koenig & Bauer and MAN Roland equipment. The company will focus on magazines and packaging instead of newspapers — a general trend among Russian printing plants.
Pervyi Polygraphicheskiy Kombinat in Moscow also launched Lithoman IV. Launching the second Lithoman IV and ROTOMAN 65 by the end of the year the plant hopes to become the largest printer of magazines in Russia, the company said in a statement on its web site.
According to the Federal Agency for Press and Mass Communications, 18 new printing plants have appeared in Russia since 2003, despite the fact that the total number of newspapers in Russia has decreased in that time. Color printing was introduced at 27 federal and nine regional printing plants. In Russia glossies are mostly printed in Moscow — at Almaz-Press and Pushkinskaya Ploschad plants.
However Russian publishers are steadily increasing spending on printing abroad. In 2003 they ordered $447.6 million worth of printing services from foreign printing plants, in 2004 the amount spent on such services was $530.1 million and in 2005 a total of $551.5 million. According to preliminary data, last year Russian publishers spent over $600 million on printing services abroad.
MDM-Pechat's core clients, like BAUER LOGOS, Axel Springer, Kommersant and Za Rulem, have all previously used foreign printing plants. Most of St. Petersburg's glossies are published in Finland and some of them in Moscow.
News source: sptimes.ru


Print this news
---
Business news archive for 27 April' 2007.
Business news archive for April' 2007.
Business news archive for 2007 year.