Business news
Progressive Ingosstrakh Looks for New Premiums
07.02.2007 16:01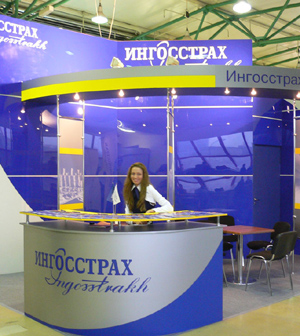 By Yekaterina Dranitsyna
Staff Writer
Ingosstrakh insurance company increased net profit over twofold last year compared to 2005 up to 1.9 billion rubles ($73 million). Insurance premiums accounted for 34.1 billion rubles — a 20.3 percent increase on 2005 figures. The managers expect to increase the company's market share, which currently stands at 7.5 percent, they said at a press conference Friday.
"In retail services the company aims to become the market's most profitable. In corporate insurance the goal is to occupy one of the leading positions and increase the share of clients from medium-sized business. And we are also aiming at active regional development," said Vyacheslav Scherbakov, president of Ingosstrakh.
"In the health insurance market our goal is to be among the top three companies. We hope to increase the share of life insurance to 10 percent of the portfolio. We think these goals are realistic. Considering our huge experience we are confident that we'll manage to attain our goals," Scherbakov said.
According to the Federal Service for Supervision of the Insurance Market, last year total volume of insurance premiums in Russia increased by 23.2 percent up to 602.6 billion rubles. Insurance payments increased by 26.7 percent up to 123.2 billion rubles.
"Ingosstrakh was always a source of qualified professionals for the Russian insurance market. It is one of the undisputable leaders," said Kirill Mikhailevsky, head of the Inspection for Supervision of Insurance Market in the Northwest region.
"This company is introducing progressive types of insurance. This company is competing with international insurance companies in the core markets," Mikhailevsky said.
By the end of 2006 Ingosstrakh's total assets accounted for 43.7 billion rubles. This year assets increased to 46.54 billion rubles, Shcerbakov said.
Most of Ingosstrakh's premiums came from property insurance (61.9 percent). Reinsurance accounted for 15.8 billion rubles. Ingosstrakh's network includes nine regional centers, 87 branches and covers 214 cities.
Ingosstrakh was registered in 1992. However, managers claim that the company was based on the former soviet insurance organization founded in 1947 — 60 years ago.
In St. Petersburg, Ingosstrakh employs over 60 people, said Andrei Alexandrov, director of the St. Petersburg office. He claimed that last year was extremely successful.
According to primary data, since January till May 2005 Ingosstrakh premiums in St. Petersburg accounted for 745.8 million rubles (including 524.1 million rubles from retail services), payments accounted for 469.5 million rubles.
Up until 2002 Ingosstrakh did not introduce retail services, only corporate insurance. At the moment the company tries to balance both types, Scherbakov said.
Insurance premiums collected in St. Petersburg and Leningrad Oblast exceed the premiums collected in all other regions of the Northwest federal district combined.
In St. Petersburg about 90 percent of industrial enterprises and shopping centers are insured while in other regions only 50 percent.
This year the main goals are to make compulsory third party liability car insurance profitable, improve the quality of service and stabilize the market share, Alexandrov said. The company also expects to increase its presence in other regions of the Northwest.
In St. Petersburg in the first half of 2007 the company increased premiums by 25 percent. Alexandrov expects growth of 30 percent by the end of 2007.
By the end of 2007 Ingosstrakh will increase the number of sales offices in St. Petersburg from 10 to 16. "We will also open sales offices in remote districts. It will satisfy the needs of St. Petersburg completely," Alexandrov said.
Last year Standard & Poors increased Ingosstrakh's credit rating up to BB+, Moody's – to Ba1.
According to a report by Princeton Partners Group, the top four insurance companies in Russia are Rosgosstrakh, Ingosstrakh, Reso-Garantia and Rosno.
Experts forecast that by 2010 the four leading companies will control 55 percent to 60 percent of the market.
News source: times.spb.ru


Print this news
---
Business news archive for 02 July' 2007.
Business news archive for July' 2007.
Business news archive for 2007 year.