Business news
Ford Announces New Model, $100M Upgrade
07.17.2007 15:36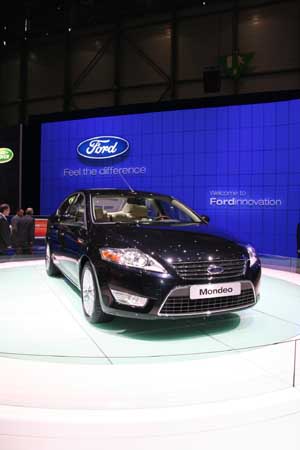 By Yekaterina Dranitsyna
Staff Writer
Ford is to start production of its Mondeo model at its Leningrad Oblast plant as part of a $100 million upgrade, the company said Tuesday in a statement. The new model will be launched by the end of 2008 with a production line of 25,000 units a year.
"The Russian car market has been expanding dramatically over the last few years. We see that demand for stylish cars with good technical specifications, the cars that Ford offers, keeps growing," John Fleming, president and CEO of Ford Europe, said in the statement.
At the moment Ford's Russian plant, which employs over 2,200 people, produces four types of Ford Focus. Ford opened the plant in 2002 with an initial investment of $150 million.
By 2009 production capacity will increase from the current 72,000 units to 125,000 units a year while Ford's total investment into Russia will amount to over $330 million. Focus production will increase by 28,000 units a year. The growth in production is based on record growth in sales.
Last year Ford sold 115,985 cars in Russia, a 92 percent increase on 2005 figures.
Since 2003, the Ford Focus has remained the most popular foreign car in Russia — 73,468 such models were sold last year. Ford Fusion was also popular, selling 16,532 cars, a 143 percent increase on the previous year, while Mondeo sales in Russia totaled 10,120 cars.
"We are proud of our results in 2006 and especially the sales of the Focus and Fusion models. By increasing production by 89 percent and importing more Focus models from Europe, we have shortened the waiting list for our clients in Russia. Orders for 2007 already amount to 29,300 cars," Henrik Nenzen, president of Ford in Russia, commented.
In the first half of 2007, Ford sales in Russia increased by 122 percent compared to the same period last year up to 81,782 cars.
The company sold 46,173 Ford Focus models, 20,313 Fusions, 5,464 Fiestas and 3,091 Mondeos. By the end of the year the company plans to sell 160,000 cars.
Analysts saw increasing production as a natural step for the company.
"For a while we saw high demand for economic class sedans. Now we see an increase in demand for business class cars in the lower price bracket," said Sevastian Kozitsyn, analyst of Brokercreditservice.
"I don't think there is at the moment an equivalent car that could challenge the Ford Focus. Though we should wait to see what models Volkswagen will produce and how they will be priced. If Toyota starts producing cheap cars, of course, they would beat off most competition," Kozitsyn said.
Ford managers saw the dramatic growth in sales as a result of the "attractive model range, the low price and beneficial credit programs."
Ford introduced loans with an interest rate of 4.9 percent. In the first quarter of 2007, out of 15,950 sold cars 6,075 cars were sold through credit scheme — a 94 percent increase on 2006 figures.
In July, Ford announced a new credit program for its Fiesta, C-Max and Explorer models and prolonged the credit program for the Fusion, Focus and Mondeo.
Sales and production growth in Russia last year were considered a brand record.
Sales also increased across all of the company's key markets including Great Britain, Italy and Benilux. Total sales of Ford Europe increased by 81,000 cars in 2006.
The total voume of production at seven plants increased by 125,000 units because of "the record volumes of production in Cologne, Kosaely (Turkey) and St. Petersburg."
According to a report by PricewaterhouseCoopers, Russia will grow to become Europe's largest car market by 2011 with sales amounting to $96 billion.
News source: times.spb.ru


Print this news
---
Business news archive for 17 July' 2007.
Business news archive for July' 2007.
Business news archive for 2007 year.