Business news
Insurers skeptical of new car legislation
07.20.2007 11:51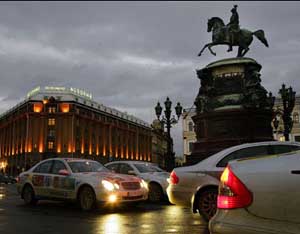 By Yekaterina Dranitsyna
Staff Writer
New legislation on compulsory third party liability motor insurance (OSAGO) has raised serious concerns among both insurers and drivers. Experts believe that tariffs could increase, quality of service could deteriorate and a number of insurers could go bankrupt as a result of the proposed changes.
From July 26, 2007, a new scheme for the calculation of insurance rates will be in force. The idea is to increase insurance payments to drivers who have had accidents and award bonuses to those drivers who have kept their insurance record clean.
"These rules should already have been in force from February of this year. However, the law requires us to take into account all the accidents related to the insured person and the car. There was no way we could collect this information. Moreover, we could not even compile it in the appropriate format," Andrei Znamensky, head of the OSAGO department of Russky Mir, said Thursday at a press conference at the Rosbalt news agency.
According to the new rules, the insured person is responsible for filing the information on his car accidents.
"The application form became more complicated. Any mistakes would allow the insurer to break the agreement. If the mistakes were ill-intentioned, all payments made according to this agreement would be recovered from the person in court," Znamensky said.
It would be a difficult task to file and check every single fact. "One person could own several cars, while the insured car could be driven by an unlimited number of his friends and relatives," said Yury Berkhman, deputy director of the ASK insurance group.
Besides the additional paperwork, experts criticized the underlying concept itself. "Dishonest drivers will remain unpunished. We still do not have a unified information center on car accidents," Berkhman said.
Dmitry Troyan, chairman of the regional branch of the Russian Association of Car Drivers, considered the bonuses offered to drivers insignificant in comparison with the penalties.
More changes are likely to be introduced next year. Drivers would receive compensation from their insurance companies, which would then in turn demand compensation from the offender's insurer. At the moment, victims of car accidents apply to the offenders' insurers for compensation.
Also, if the estimated damage is less than 25,000 rubles ($960), drivers will be allowed to handle the accident documents themselves without the mediation of road police.
"Considering the bad general culture of driving, the idea of allowing drivers to file documents is frightening," said Sergei Soloviev, head of the accident commissars department at LAT assistance company.
Experienced drivers will swindle the victims, he warned, while insurance company experts will act in their own interests. Znamensky also forecasted mass fraud.
"OSAGO payments are increasing in all regions. In about two years they would exceed insurance premiums. The quality of service will decrease, insurers will exhaust their financial resources," said Sergei Brovko, marketing director of Reso-Garantia.
Troyan forecasted that about 40 companies could go bankrupt, while others will start market wars.
"During the first three years of OSAGO insurance companies cashed in in this market, and the Russian Union of Car Insurers earned good profits by selling licenses to the first comers," Troyan said.
About 60 percent of insurance companies in Russia operate only on paper, he said, which will cause lots of problems when insurers start demanding compensation from each other.
Troyan was also skeptical about the simplification of the procedure for accident registration. "The driver will blame everyone on earth in order to prove his right to compensation to the insurance company, making the documents pure works of fiction. I really doubt that he'll ever get those 25,000 rubles without the road police acting as witnesses in his favor," Troyan said.
News source: times.spb.ru


Print this news
---
Business news archive for 20 July' 2007.
Business news archive for July' 2007.
Business news archive for 2007 year.