Business news
New Lottery Just The Ticket for City Hall
08.06.2007 18:04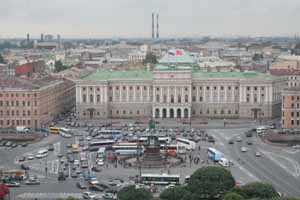 By Yekaterina Dranitsyna
Staff Writer
City Hall has found a new way of taxing the credulity of the poor. Instead of gaming halls, which are to be banned from Jan. 1, 2008, gamblers are being offered a state lottery alternative. Funds raised through the lottery will be used to finance social projects, local officials claim.
Nevskoye Loto lottery was inaugurated on May 27 this year with the backing of the Committee for Economic Development, Industrial Policy and Trade (CEDIPT).
"Lottery draws are to be held weekly. The number of participants has already increased by 50 percent. The prize fund is growing. Somebody could win over 200,000 rubles ($8,000) in one of the upcoming draws," CEDIPT said last week in a statement.
The statement emerged in response to negative media speculation concerning the lottery and its organizers.
The fact that the National Reserve Bank (NRB) provides accounting services for the lottery was the object of most suspicion. Former president and shareholder of NRB Alexander Lebedev is known for his uncompromising position in relation to the gambling business. As a State Duma deputy he was one of the most active promoters of the law that prohibits gambling in Russian cities.
Some media said that Nevskoye Loto Ltd. is affiliated with NRB. The bank, however, denied any connection to the lottery's organizers.
"None of the documents available to CEDIPT show any connection between State Duma deputy Alexander Lebedev and the organizer of the state lottery Nevskoye Loto," the CEDIPT statement said.
Local officials claim that the idea of a lottery "that would attract non-budget funds for social projects and allow citizens a real chance of winning money" emerged in CEDIPT two years ago.
CEDIPT expects nostalgia for the popular soviet weekly lottery Sportloto will ensure that this project is successful.
Funds raised by Sportloto were used to finance the development of sports activities. Nevskoye Loto, according to CEDIPT, will raise funds for "social needs and the recreational pursuits of city residents."
Regardless of its social mission, for participating companies the lottery is simply a business venture. The organizers have already ordered over 300 terminals for the distribution of lottery tickets from Unikum company. The terminals were installed in all major retail chains and a number of filling stations, and will soon be installed in metro stations.
Winnings are distributed through Teleforum retail outlets. Meanwhile, CEDIPT is doing everything it can to promote the lottery as a "social project."
According to its agreement with CEDIPT, Nevskoye Loto will operate the lottery for five years and be exempt from laws on gambling.
"Lotteries are not subject to laws on gambling. These are two different spheres. Gambling is regulated by Law No. 244 while lotteries are regulated by Law No.138," said Georgiy Pchelintsev, lawyer at Beiten Burkhardt St. Petersburg.
"It's a state lottery, and I don't think that lotteries will face any limitations or changes in legislative regulations in the foreseeable future," Pchelintsev said.
He claimed that the separate regulation of lotteries and gambling is normal practice in most European countries.
"And in St. Petersburg it's not the first initiative of its kind. The city has organized lotteries in the past," Pchelintsev said.
News source: times.spb.ru


Print this news
---
Business news archive for 06 August' 2007.
Business news archive for August' 2007.
Business news archive for 2007 year.