Business news
Intel to Customize Solutions for the Dacha
08.20.2007 14:49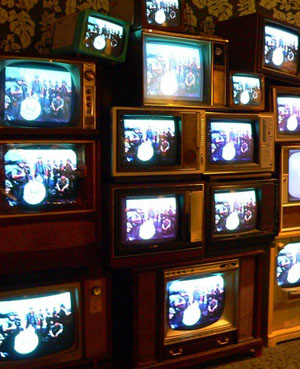 By Yekaterina Dranitsyna
Staff Writer
Intel Corporation has launched an anthropological and ethnographical research project in Russia — by studying the behavior of the middle class, and how they use information technologies at their dachas, Intel hopes to come up with solutions and products customized for Russian country-homes.
"We are focused on how people around the world use technologies at home. Engineers often have an inappropriate understanding of technologies," Francoise Bourdonnec, head of Domestic Designs and Technologies Research Group at Intel, said Friday at a press conference in St. Petersburg.
Intel said there are about 1.6 billion households around the world. According to Intel, people in Los-Angeles and Singapore use the same technologies but in different ways. For example, in one UK residential flat researchers found a total of 12 TV sets being used.
One of the discoveries was that "people don't want all of the information all of the time and everywhere," Bourdonnec explained. Regardless of technical capabilities, people limit the use of a TV or computer to protect their children from inappropriate programs and web sites.
Only after introducing a special "lock" mechanism did Intel manage to significantly increase the sales of personal computers in China because Chinese parents wanted their children to use computers for studying and not for gaming and browsing over the web.
Bourdonnec and her group have recently completed research in 16 countries, spending two to four weeks on each project.
Research focused on cell phones, TV sets and PCs. The group presented the results to Intel engineers and indicated new development opportunities.
Among innovations inspired by the research Bourdonnec mentioned the introduction of public PCs in India, shock-proof and dust protected, and school PCs, which will be offered on the Russian market soon.
The results of the research in Russia will be presented in January next year at the International CES – a forum and exhibition on consumer electronics in Las Vegas.
"Considering Intel's goals —modifying existing products for the Russian market and inventing new product categories — this is the best research tool they could have used," said Mikhail Podushko, director for development at WorkLine Research.
"Ethnography works best when identifying and describing social and cultural differences in consumption across various countries," Podushko said.
Ethnographical research is not something new or particularly rare for large companies in Russia. Since 2000, WorkLine Research completed a number of such projects for the producers of electronics, medical companies, suppliers of consumer chemicals and IT companies. One of the latest projects was ordered by Microsoft and BBDO.
"Studying the real life of consumers and participating in their day-to-day activities, researchers see patterns of behavior inaccessible by way of traditional market research. They see hidden needs, non-declared criteria of choice, untraditional ways of using goods," Podushko said.
When the research was completed, Samsung managers were surprised to find out that some Russian families use vacuum cleaners to catch insects and whitewash ceilings, Podushko indicated.
The research also showed that people did not like the smell of air after vacuum cleaning. "It gave an opportunity for innovation — the company offered vacuum cleaners with an aromatizing function," Podushko said.
Through ethnographical research the companies get a multifactor model of consumer behavior and see emerging market trends, Podushko added.
Intel employs 40 people in its ethnographical and anthropological research departments. Bourdonnec admitted that Intel is not a pioneer in this field. She listed Microsoft, Pioneer and Rico among the technological companies that use ethnographical research.
All of them are following in the wake of consumer goods companies like Procter & Gamble, which first introduced such methods.
News source: times.spb.ru


Print this news
---
Business news archive for 20 August' 2007.
Business news archive for August' 2007.
Business news archive for 2007 year.