Business news
Rolf Rolls Out Second-Hand Car Assistance
08.27.2007 15:32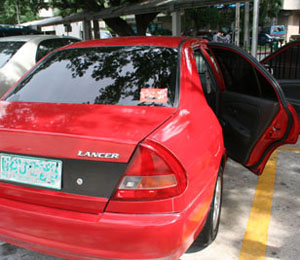 By Yekaterina Dranitsyna
Staff Writer
The growing market for foreign second-hand cars has finally caught the attention of major dealers. By helping customers to sell-off their old cars, dealers will take a healthy commission or, better still, sell them a new replacement.
In June the Rolf group of companies began offering assistance in the sale, acquisition and exchange of second-hand Mitsubishi Lancer and Mitsubishi Outlander models. The project, called BlueFish, was originally launched in three car centers in Moscow.
"The project is developing faster than we expected. Already in August all six of Rolf's Moscow centers joined the BlueFish project. And now we are opening a center in St. Petersburg," Grigory Ratz, director of BlueFish company, a subsidiary of Rolf, said Tuesday at a press conference.
Ratz hopes to occupy a specific niche, offering civilized, safe and personalized services. Besides technical diagnostics, presale repairs and a car's legal history, Rolf will provide the buyer with recommendation on further repairs for the next 7,000 kilometers of driving.
Cars are checked according to 49 parameters. Pricing is clear and unified for any Rolf center. To give an indication, prices can be calculated on the Rolf web site. At the moment BlueFish has 400 cars in its portfolio. From them, 200 clients have ordered new cars in exchange for their old ones. Over 100 clients have already bought used cars.
Rolf plans to go national with the project, and is looking for regional partners. The company also plans to include other Mitsubishi models and add all the other brands distributed by Rolf in Russia. In St. Petersburg the company is using the Rolf-Carline dealership to start with, and later plans to add other centers.
Ratz said the response from customers has been positive. He plans to reduce the time needed for presale repairs from six to two days. At the moment the used cars are sold nine days after they first appear in the showroom. Ratz expects this period to fall to just three days. He plans to break even by the end of the year, by which time the company also wants to offer a guarantee for the servicing of used cars.
Rolf is not the only company focusing on this market segment. Renault offers similar services in its centers. Renault dealers issue certificates checking used cars on the basis of 82 parameters and investigating their legal history. Used Renault cars are available in three centers in Moscow, one in St. Petersburg and also in six other Russian cities.
Besides car dealers, a number of companies specialize in sales of used cars. One example is Moscow-based company Renaissance Auto, which offers assistance in the sale, acquisition and exchange of any brand as well as free of charge parking and presale repairs.
The company offers prepayment of up to 50 percent of the car's value, diagnostics and loans, registration in the police's car database and insurance services.
"Our company was founded in 2000 to unify in one car center a range of services that allow our clients to solve, quickly and efficiently, any problem with the sale or acquisition of any used car starting from the cheapest models produced at the end of 1980s and going up to recent prestigious foreign cars regardless of the car's class, model or producer," said Andrey Yerastov, general director of Renaissance Auto.
According to a report by PricewaterhouseCoopers, the Russian car market accounted for $32 billion last year. Sales of new imported cars totaled $18.2 billion and sales of used imported cars totaled $3.6 billion. Overall sales of automobiles in all categories passed the two million car mark.
Stanley Root, partner and head of PwC automotive practice, forecast that by 2010 the imports of foreign cars will drop to as low as about 40,000 cars a year while the market for used cars will increase to $11 billion (about 900,000 used cars will be available by that time).
However the used car market lacks sales infrastructure. The absence of any equivalent to the UK Glass Guide makes pricing a voluntary decision. Development of the market is also hindered by high taxation.
The PwC survey indicates that the growth achieved in 2006 in the automotive market may stall somewhat in the coming years due to insufficient investment in market infrastructure.
News source: times.spb.ru


Print this news
---
Business news archive for 27 August' 2007.
Business news archive for August' 2007.
Business news archive for 2007 year.