Business news
RBI Plans $500 Million Development
09.18.2007 16:58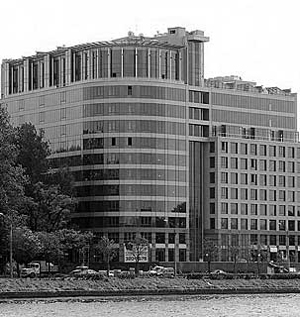 By Yekaterina Dranitsyna
Staff Writer
RBI holding plans to spend $500 million on acquiring land plots in Russia's regions during the next two years. By doing so, the company hopes to start its regional expansion and operate on a national level.
So far RBI has focused on development projects in St. Petersburg, selling premium-class premises under the RBI brand and mid-range premises under the Severny Gorod brand.
"Over a five year period we should be able to realize projects of any scale in any location," Eduard Tikhtinsky, chairman of the board of RBI holding, said at a press conference Wednesday describing the company's strategic goals.
In the near future RBI will focus on Moscow, St. Petersburg, Kiev, Yekaterinburg, Perm, Nizhny Novgorod, Tyumen, Ufa and Alma-Ata. RBI will use its own financial resources as well as those of its business partner Deutsche Bank and shareholder Morgan Stanley.
Besides this regional expansion, RBI will start developing new types of projects in addition to its traditional premium-class and mid-range residential complexes. These will include business centers, shopping centers and multifunctional complexes that combine commercial and residential areas.
To manage the business on a new level the company has employed new managers who have experience in working in large companies with regional branches.
At the moment about 50 percent of the top management is comprised of newly-appointed staff, Tikhtinsky said. They came from TNK-BP oil company, TGK-1 power company, Struktura Development and Becar real estate agency.
"New market segments and new regions will allow us to find new opportunities. We're not interested in logistic complexes and hotels. We've chosen the market segments that are still underdeveloped. We have been looking for cities with maximum potential for residential real estate, attractive prices and good prospects," said Mikhail Voziyanov, vice president for strategy and investment at RBI.
Cities with large populations will be equally attractive for the development of business centers, he added.
The company's managers believe that, with the exception of Moscow, in all other regions their products will be unique for the local markets. Tikhtinsky added that besides acquisition of land plots the company will consider joint ventures with local developers and land owners.
Polina Yakovleva, head of the elite real estate department at Knight Frank St. Petersburg, considered the regions chosen by RBI attractive from an investment prospective, especially the oil production regions.
RBI is unlikely to suffer from competition in the regions, Yakovleva said.
Since 2006 RBI has invested over $100 million into new projects. The company has acquired 40 hectares of land – four land plots in St. Petersburg and one land plot in the Leningrad Oblast. Of these territories RBI will construct 250,000 square meters of residential area and 50,000 square meters of commercial area.
News source: times.spb.ru


Print this news
---
Business news archive for 18 September' 2007.
Business news archive for September' 2007.
Business news archive for 2007 year.