Printed from: http://petersburgcity.com/news/business/2007/10/05/hotels/
Business news, 05.10.2007 13:34
Sokotel Plans 5 New Hotels in City Center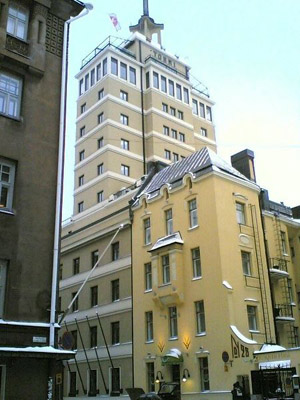 By Yekaterina Dranitsyna

Staff Writer

The Finnish hotel operator Sokotel plans to construct five new hotels in the center of St. Petersburg over the next six years, adding about 1,000 new rooms to Sokotel hotels' capacity, the company announced last week in a statement.

Last month Sokotel completed the construction of Sokos Hotel Olympic Garden, which will start operating in the near future.

"Over the last two years we have announced three large projects in St. Petersburg. Just a year ago we had nothing here in this spot, and today we see a beautiful building. In Finland we would not have been able to construct the building so fast," said Juhani Jarvenpaa, general manager of SOK Holding.

At the moment SOK Holding is looking for land plots in the center of St. Petersburg to construct five new hotels. The company is considering both state-owned and private land plots, Jarvenpaa said.

All the new hotels will be four-star, and each hotel will offer 200 to 300 rooms. Construction of one hotel could take up to two years, while the total project is expected to take six years.

Sokotel estimated the total investment into new hotels at $50 million. In addition to its own investment, the company expects to attract about $213.5 million from partner investors. Jarvenpaa expects that the same partners who financed the construction of Sokos Hotel Olympic Garden will join Sokotel in its new ambitious ventures. Real estate experts were positive about Sokotel's new projects. "The company will very probably find appropriate land plots for new developments or land plots that could be redeveloped," said Tatyana Chursina, senior consultant in the investment department at Colliers International.

However, the proposed volume of investment is "on the edge," she said, due to the growing prices for land in the center of the city.

"The hotel operator should not face any particular problems. Any new hotel projects are welcomed by local authorities, as hotels are a priority at the moment and operators can find all the conditions necessary for development," Chursina said.

She considered four-star hotels to be the most popular segment, especially for foreign tourists.

At the moment Sokotel is completing the construction of three hotels in St. Petersburg, which will offer about 900 rooms. The company invested about $178 million into these projects.

Sokotel already employs 110 people in its chain in Russia, and plans to employ a total of 400 people by the end of 2008.

Sokos Hotel Olympic Garden will open in December 2007, Sokos Hotel Vasilievsky will start operating at the beginning of 2008, and the company's recently completed five-star Holiday Club hotel is due to start operating later this month.