Business news
Timber Firm Thrives Despite Poor Market
10.05.2007 13:19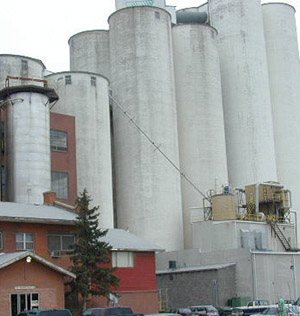 By Yekaterina Dranitsyna
Staff Writer
The Northwest Timber Company has invested $150 million into the modernization of its production facilities, and another $300 million is to be invested in the near future. Managers believe that by making the production process more efficient, they will compensate for the unfavorable market environment.
The modernization program was started in 2004 and is planned for completion in 12 years time. The Northwest Timber Company, which consists of Kamenogorskaya Offset Paper Plant in the Leningrad Oblast and Nemansky Pulp and Paper Plant in the Kaliningrad Oblast, has managed to normalize operations at enterprises which were close to bankruptcy.
"In Russia, timber companies tend to produce products with low added value. Infrastructure is underdeveloped, which leads to large transportation expenses," Irina Bitkova, chairwoman of the board of the Northwest Timber Company, said Wednesday at a press conference.
European consumers are switching to timber from southern countries that benefit from low production costs compared to Russia and offer cheaper products.
"We have to focus on more sophisticated methods of processing timber and produce paper with a higher added value," Bitkova said.
Last year the company launched a new paper production line, investing $60 million into construction and equipment. At the end of this month a new gas-distribution station, which cost $2.5 million, and a new paper works, which cost around $8 million, will be launched at the Nemansky Pulp and Paper Plant. The new production line will produce 6,500 tons of paper a month in addition to the 2,000 tons that are currently produced at the plant.
Over the next two years, the Northwest Timber Company plans to build a new paper plant at its Nemansky plant, which will produce 120,000 tons of products, and to introduce a new production line at the Kamenogorskaya plant. The company will also invest in energy saving technologies and purifying systems.
Since the early 1990s, production of pulp and paper in Russia has decreased by 20 percent.
In the last six months, production has decreased by 2.4 percent, Bitkova said, while the price of timber has increased by 43 percent, the price of gas by 60 percent, and price of energy by 13 percent.
Denis Sokolov, executive director of the Northwest Confederation of Timber Enterprises, indicated that 86 percent of equipment in the Russian pulp and paper industry is depreciated and requires significant investment. He called for the approval of a special law supporting strategic investment projects in the industry.
Vladimir Yegorov, member of the board of the Northwest Timber Company and former governor of the Kaliningrad Oblast, indicated that tax exemptions as well as the support of regional authorities helped the company to improve its performance.
News source: times.spb.ru


Print this news
---
Business news archive for 05 October' 2007.
Business news archive for October' 2007.
Business news archive for 2007 year.