Business news
HP, Foxconn to Build St. Pete Computer Plant
05.20.2008 07:35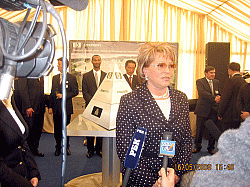 Hewlett-Packard announced Friday that it was teaming up with Foxconn International to build the country's first foreign-owned computer factory in an effort to capitalize on spiraling demand for high-tech products.
The $50 million plant on the outskirts of St. Petersburg will occupy a sprawling 32,000-square-meter space and have the potential to churn out half a million personal computers per year.
St. Petersburg Governor Valentina Matviyenko, who attended the groundbreaking ceremony, said the plant was "central to the city's development strategy."
"This place will become a huge techno-park, producing high-tech electronics and computers to satisfy growing industrial, scientific, and educational needs throughout Russia," she said.
When fully operational in spring 2009, the Foxconn Rus factory will assemble 40,000 desktop computers for HP per month and will later expand output to include laptops, LCD monitors and workstations, Jim Chang, managing director of Foxconn International, said Friday.
Financial details were not released, but Foxconn, which holds a majority stake in the project, said it could invest close to $100 million within the next few years.
HP did not disclose how much it would commit to the project.
Foxconn -- a unit of Taipei-based Hon Hai Precision Industry, the world's largest contract electronics maker -- already produces personal computers for HP in Taipei, where it also makes mobile phones for Nokia and the PlayStation 2 for Sony.
Chang drew thunderous applause as he welcomed Matviyenko with a scarf from the local Zenit football club on his shoulder, sparking talk of renaming the factory "Victory" in honor of the team's win over Glasgow Rangers in the UEFA Cup final on Wednesday.
Matviyenko said HP and Foxconn would join the swelling ranks of Western and Asian companies -- especially automakers -- that are transforming St. Petersburg and the surrounding Leningrad region into the country's biggest industrial hub.
She confirmed that she personally made a trip to California to lobby for the deal, adding that with such factory, St. Petersburg would be stealing the limelight from Moscow as the country's center of commerce.
Owen Kemp, director of HP Russia, echoed Matviyenko.
"The city has become a magnet for Western companies because of its seaport facilities and fast-track rail links to Moscow, the largest market for high-tech products," he said.
"For 40 years, we have been supplying various high-tech equipment to Russia, and we are proud at last to open our first factory that would produce computers here," Kemp said.
The plant may become a regional hub, supplying not only the Commonwealth of Independent States, but also the Baltic states and Scandinavia, HP senior vice president Tony Prophet said at the ceremony. "Russian demand for the latest PC technology is developing quickly, and HP sees increasing interest from consumers and commercial customers," he said.
When production starts next year, the factory will assemble 20,000 HP desktop computers monthly, Foxconn Rus general director Andrei Korzhakov said.
Initially, the factory will rely heavily on imported components, which are expensive because of unusually large excise duties imposed in Russia. Experts say the duties may offset any economic gains achieved from domestic production, significantly pushing up prices for the factory's finished goods.
"Lower distribution costs within the country appear to be the only economic gain from this project," said Alexander Malyarevsky, editor of Computer Bild magazine. "If the partners use the factory as a strategic base to supply the CIS and the Baltic states, they might save costs on transport and logistics," he said.
Pyotr Yakovlev, deputy editor of computer newsmagazine Chip, said the country imposed "heftier excise duties on imported components than on finished goods," which could deter foreign firms from opening plants in Russia.
Yakovlev added that despite HP's already significant presence in the city -- including a research and development center, where many Russian scientists and technicians work -- both companies may have to lure workers from abroad.
Matviyenko told reporters after the ceremony that the authorities, including "the current prime minister," were aware of the tax issue and that she was "lobbying frantically to get things straightened out." She added that she had spoken with Economic Development Minister Elvira Nabiullina on the subject that morning.
"Putting a higher tax on imported components is absurd and a threat to projects like this," Matviyenko said. "It is incomprehensible that excise duties on component parts are far greater than those on finished products."
Matviyenko suggested that domestic suppliers of electronics components have lobbied hard to keep the current law in place, arguing that it is needed to stimulate domestic production.
"We need to protect domestic industries, but we must do so without fanaticism," she said. "Fanaticism cannot boost the economy."
News source: Moscowtimes.ru


Print this news
---
Business news archive for 20 May' 2008.
Business news archive for May' 2008.
Business news archive for 2008 year.