Business news
Wall Streetís Women Visit St. Petersburg
05.27.2008 07:52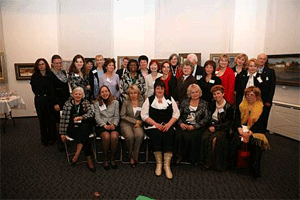 More than 20 businesswomen from the U.S.-based Financial Womenís Association arrived in St. Petersburg on Friday to take part in the 24th annual international conference. The event kicked off on Saturday night at the St. Petersburg Artist art gallery, where American financial leaders had the chance to meet their Russian counterparts and get insight into the most recent developments on the Russian financial and investment markets.
Established in 1956, when there were just eight enterprising women working on Wall Street, the Financial Womenís Association (FWA) now numbers nearly a thousand members worldwide, and retains its original goal of helping to promote women in finance. The association organizes annual conferences in various regions of the world in order to become familiar with the economic and business environment of specific countries and make contacts in the local financial communities.
The Russian program, which includes events in both Moscow and St. Petersburg, includes meetings with governmental officials, business leaders and independent consultants and runs through May 31. Among the events scheduled for the Russian conference are meetings with representatives from the American consulate and embassy, American Chamber of Commerce, DaVinci Capital, MICEX, Goldman Sachs Russia/CIS, KPMG real estate, Carnegie Moscow Center, HSBC and several other financial and investment institutions. Meetings with Arkady Dvorkovich from the Russian Presidential Administration, Minister of Finance and Vice-premier Alexei Kudrin, and St. Petersburg Governor Valentina Matviyenko are also planned within the framework of the conference, according to the president of the FWA, Lily Klebanoff Blake.
Shortly before the conference, the FWA participants attended briefings on Russia, aimed at breaking down misconceptions about the country. One briefing dealt with the theme of Russian banking, another was dedicated to the economic climate and investment opportunities, and another discussed Russian antiques and artwork, according to Klebanoff.
Klebanoff, who is of Russian origin, admits she has a personal interest in pursuing the development of the FWA in Russia. Born in Shanghai, she was the third generation of her family to live in China. Klebanoff spent the first part of her career in healthcare and public finance, later becoming an executive director of a consortium of Fortune 500 firms, facilitating their entry into the Soviet market. She is also currently the president of Klebanoff International, an international business consultancy specializing in business development and trade.
The St. Petersburg welcome meeting was organized and facilitated by the Center for Civic Initiatives, a Russo-American foundation which has been working for more than 15 years, providing professional internships and exchanges. According to the foundationís director, Olga Chubarova, more than 7,000 business professionals from all over Russia have already taken part in various exchange and study programs, with 45 percent of them being women. ďThat was our part in promoting the role of women in business and finance in Russia, and here we can see a strong connection to what the FWA are doing,Ē she said.
News source: Times.spb.ru


Print this news
---
Business news archive for 27 May' 2008.
Business news archive for May' 2008.
Business news archive for 2008 year.