Business news
Four Seasons to Manage 'House With the Lions'
07.29.2008 07:34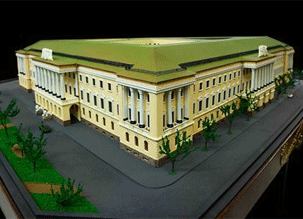 A luxurious five-star hotel complex is due to open in downtown St. Petersburg next year aiming to accommodate VIP guests, host international summits and meet the growing demand for hotel facilities in the city, which continues to enjoy a boom in tourism.
A contract was signed on Wednesday between Mikhail Masalov, CEO of Tristar Investment Holdings Ltd. (TIH), and Isadore Sharp, director of the board of Four Seasons Hotels and Resorts, which will manage the five-star hotel, to be completed in 2009 and located on Voznesensky Prospekt.
The building, which was originally the palace of Prince Lobanov-Rostovsky and is also known as "The House with the Lions," was designed in 1817 by Auguste Ricard de Montferrand, who is best known for designing the nearby St. Isaac's Cathedral. The palace is under federal protection and in 2004 TIH was chosen as a contractor to manage the redevelopment of the building and handle investments.
"We were looking for a company that would meet the requirements and standards set for a first-class hotel facility," said Viktoria Sobolevskaya, deputy CEO of TIH.
The renovation has seen a lot of criticism recently, after an extra attic level was added to the building and a wing in the courtyard was demolished. Concerned local residents applied to Rosokhrankultura, the supervisory body in charge of the protection of historical monuments and buildings, which initiated an investigation. Kirill Zaitsev of Rosokhrankultura told Fontanka.ru news agency that according to the project approved in Moscow, no changes to the attic level resulting in changes to the building's external appearance are to be carried out.
"TIH is acting in accordance with the terms that we are obliged to follow. On Wednesday, Rosokhrankultura is due to open the investigation into whether the House with the Lions has suffered any unauthorized damage, and is expected to reach a verdict a month later," said Sobolevskaya by telephone on Monday.
In 2006, according to the protocol of intention, Four Seasons Hotels & Resort was approved as a partner in the project, marking the company's entrance into the Russian market. Four Seasons Hotels & Resorts manages about 80 hotels in five continents, with about 30 projects currently in progress.
TIH's Masalov said that the hotel's investors of $135 million expect to see profits in five to seven years.
"TIH is credited by Uralsib Financial Corporation and the subsequent agreement will be signed soon," Masalov told Russia's RBK Daily newspaper last week.
Beverly Hills-based Cheryl Rowley Design (CRD), which has collaborated with Four Seasons Hotels & Resorts on several projects, including hotels and resorts in Buenos Aires, Philadelphia, Carlsbad and Palm Beach, has been hired as the interior design firm to carry out a $125-million renovation of the federally significant historic monument.
Due to start operating by the end of 2009, two of the three existing open-air courtyards in the neo-classical building will be enclosed to create additional public areas on the first floor, including a large ballroom and spa and fitness facilities. The glass and steel enclosures will be modern in design, but the geometry is designed to reflect the "winter garden" enclosures popular during the period in which the building was built. The hotel will also include state-of-the-art meeting and conference facilities, several restaurants and 183 guest rooms and suites covering a total of approximately 19,000 square meters.
Alexander Krapin, CEO of RWAY Information and Analysis Agency, said that first-rate hotels are always in demand in every city. "Conferences, summits and forums are generally hosted by hotels of at a least four-star level. And if there are such facilities, business tourism sees growth."
"Russia's Northern Capital will improve its international image as soon as this type of hotel opens," predicted Oleg Repchenko, head of analysis at Real Estate Market Indicators.
St. Petersburg is now often chosen over Moscow for hosting international events, such as the annual Economic Forum and Group of Eight leaders summit in 2005. Andrei Beketov, supervisor of the Real Estate Market Analysis Project, said that the city currently lacks suitable accommodation for VIPs who usually insist on high levels of security and comfort during visits.
"This by no means imply that luxurious hotels should be abundant in St. Petersburg as it is wrong in terms of economics. But at least one first-class hotel is a must," said Beketov.
News source: Times.spb.ru


Print this news
---
Business news archive for 29 July' 2008.
Business news archive for July' 2008.
Business news archive for 2008 year.