Business news
A Changing Market
09.24.2008 07:28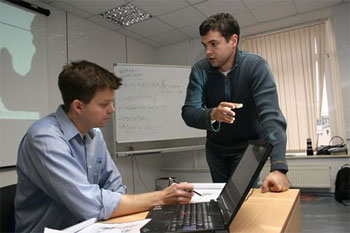 Since the MBA degree won recognition around the world, international business education has undergone a renaissance in Russia. From the 1990s when the local market emerged, business knowledge has became a condition for professional success. There are now 12 business schools, both Russian and international, in St. Petersburg alone.
The history of MBA programs in Russia is relatively short, resulting in a lack of real and long-term practice.
"Traditionally, studying for a second degree is still very popular in Russia. But the main difference between the MBA degree and a second Russian diploma is that the first provides a lot of skills and practical knowledge in how to create and develop a business," says Alexandra Mayorova, head of the Professional Search and Selection (PSS) department at Ancor Banking & Financial Services.
The oldest and most well known universities, such as St. Petersburg State University and Moscow State University, cooperate with international business schools from the U.S., U.K., France and other countries.
In addition, with support from the National Russian Education state project, a new campus for the Graduate School of Management of St. Petersburg State University is being built in Strelna, a suburb of St. Petersburg. Along with Skolkovo in Moscow, these institutes are designed to be an alternative to foreign schools. Students can live on campus for the duration of their study.
Open Business School (OBS), based in St. Petersburg, has been part of the IIM LINK Regional Network for 15 years, which in turn has partnered the Open University Business School (U.K.) MBA programs since 1992.
Nadezhda Golenischeva, marketing director of OBS, describes Russian business education as a combination of European teamwork points and the leadership focus of American MBA programs.
"I think there is a precise target among Russian students: Take a personal leap forward," says Golenischeva. For Russians it is often more important to make personal progress in the field of business than to be an equal part of a work team.
"Russian students usually have a high level of understanding and fluency in English language. Our MBA courses are taught in English only. Russians have strong ambitions, motivations and background that help them in studying," said Jack Neasham, Acting Regional Manager for the U.K. Open University MBA program in Russia, Romania and Ethiopia.
"Our mixture of online and face to face support offers great flexibility, as well as the quality mark of the three main international accreditations."
Golenischeva believes that Russian business schools are still developing institutes, and that only foreign MBA programs can provide a full and systematic business education. OBS offers a Professional Certificate and Professional Diploma in Management, as well as the internationally recognized Master of Business Administration. The Open University is the U.K.'s only university dedicated to distance learning.
"We see St. Petersburg in particular and Russia in general as a key market for us," says Neasham.
"The Russian market is growing fast and we expect to see growing demand for MBAs. We aim to provide a very good product. We don't just offer MBAs, we also present initial certificate and diploma courses. We are very keen to extend our activity, and to try to support the development of OBS."
Mayorova describes the latest changes in MBA programs as nothing less than a revolution.
"Progress and improvement in online and distant marketing, the development of learning in an electronic format — all these achievements make MBA courses far more mobile, diverse and attractive to applicants. Not only the course elements, but education technology itself change modern MBA programs."
Distance learning today bears little resemblance to earlier correspondence courses. Students are well supported by tutorial groups, international communication and e-conferencing, which provide the impulse and support necessary for effective work.
Anna Kulashova, head of Microsoft's northwest department, gained her MBA from the Open University Business School last year. Kulashova, whose picture graces the cover of OBS magazine, said that she deliberately chose an MBA program in English in order to prepare her for international business relations.
"If you want to work in a global corporation, you have to understand that you will be faced with another kind of conditions, and you will have to meet the requirements. Business is growing and developing, and we just can't escape that reality," she said.
The most popular and well established MBA schools in St. Petersburg include St. Petersburg State University Graduate School of Management, the Stockholm School of Economics, the Open University Business School and others.
The Stockholm School of Economics (SSE), which opened in the city in 1997, aims to combine Russian values such as "state-of-the-art academic findings with successful business experience," according to Dr. Anders Liljenberg, dean of the SSE Russia and associate professor of the Stockholm School of Economics in his web-message.
"Our vision is to contribute to the development of sustainable business in Russia, via the pursuit of sound, long-term, fair and socially responsible business practice benefiting primarily the customer, in consequence the organization itself, and ultimately the interests of Russia and its citizens. It is capitalism with a human face!"
The last expression is a paraphrase of a well-known Soviet slogan, "Socialism with a human face!"
Many schools now offer programs tailored specifically to the Russian market. SSE has two executive programs — Oil & Gas and Strategic Marketing — reflecting the fact that the school is trying to attract managers who are focused on working in Russia.
"The most obvious adaptations of MBA programs to Russian courses are the great number of modifications towards the local market and local companies," says Ancor's Mayorova.
"Business schools here offer different schedules of studying: full-time, part-time, evening, distance, online and module learning. So every student can choose the timetable that suits them most. Foreign business schools don't have the same range of opportunities that Russians schools do."
News source: Times.spb.ru


Print this news
---
Business news archive for 24 September' 2008.
Business news archive for September' 2008.
Business news archive for 2008 year.