Business news
2 Fired From GM Plant After Go-Slow
11.24.2009 16:09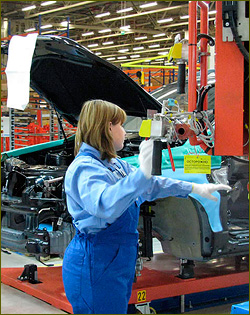 The management of General Motors' St. Petersburg plant has fired two workers for carrying out a "go-slow" strike – union leader Yevgeny Ivanov and member Olga Shafikova.
Ivanov received his pink slip on Friday, the day after the union met with the management of the plant and was denied all of its requests, Ivanov said. Shafikova found out about her layoff the day before, when she failed a routine medical checkup, he said, adding that the management was happy with her health the year before.
Shafikova declined to comment.
According to his discharge documents, Ivanov was fired for "absence from work for more than four hours without a legitimate excuse."
Ivanov said he requested on Oct. 21 that the management give him safety instructions for working with load-lifting machinery and copies of documents certifying that he took the safety lessons and passed examinations permitting him to work.
"After a day, they didn't show me the documents, and throughout this time I was at work but wasn't working, because I consider the layoff illegal, which I will prove in court," he said. "We will get them to restore those laid off to their jobs and are going to appeal to the prosecutor's office with a complaint," said Stanislav Tokarev, Ivanov's deputy.
GM spokesman Sergei Lepnukhov confirmed that Ivanov was laid off, but declined to reveal the reasons for his firing. "If an employee thinks that his rights are violated then he can appeal to the courts," he said.
"If in the course of a medical checkup a worker is found to be unfit to carry out his duties, he is offered another position if there is one. At the moment, there are no open positions at the factory," factory representative Yulia Boicharova said.
Ivanov said the layoffs were a response to union activity. Two weeks ago, the workers began a "go-slow strike," in which production, according to Ivanov, was cut 30 percent, from 90 to 60 automobiles per day.
Workers want a guaranteed yearly raise of eight percent, a 40-hour work week and two weeks of discretionary vacation instead of one week.
A union leader cannot be fired for fulfilling his union responsibilities during work time, but there should be some evidence confirming Ivanov's rightness, said Natalya Neverovskaya, a partner at Unicomlegal. She added that courts often side with workers in order to avoid a dominance of unemployment.
News source: The St. Petersburg Times


Print this news
---
Business news archive for 24 November' 2009.
Business news archive for November' 2009.
Business news archive for 2009 year.