Business news
Autumn Brings Relief After Strict Year for Loans
12.15.2009 15:24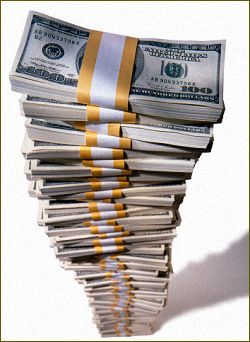 During the first nine months of 2009, the total volume of loans issued to legal entities by banks in St. Petersburg fell by 2.3 percent to 723.4 billion rubles ($24.03 billion.) During the same period, the volume of deposits held by private customers at St. Petersburg's banks rose by 14 percent to 483.7 billion rubles ($16.06 billion).
Conditions for loans to corporate clients tightened up in the autumn of 2008, but in September of this year banks began to relax demands made on borrowers, said Pavel Lavrov, manager of the Petrokommerts Bank branch in St. Petersburg. Corporate clients can now borrow against stocks of goods and receive unsecured loans, Lavrov said.
While loans at present have terms of no longer than a year, in early 2010 two- and three-year loans for corporate customers will be given consideration, Lavrov said.
Anna Barkhatova, a senior manager at St. Petersburg Bank, said that the bank is now ready to increase credit limits and extend time periods, despite the bank's general conditions remaining stringent. Barkhatova said that during the autumn period, the bank had reviewed and reduced interest levels as often as twice a month, with an overall decrease of 4 percent to 4.5 percent in rubles since the beginning of the year.
Igor Kirillovykh, chairman of the board of management at Baltinvestbank, said that according to his estimates, since the beginning of the year, interest rates have fallen 5 percent to 18 percent on average. In the summer the bank began to expand its credit portfolio and it is now 5 to 10 percent larger than at the beginning of the year, he noted.
Competition is heating up among banks to attract major clients, primarily monopolists from the energy sector or telecoms companies, which can dictate their terms. Banks are offering them loans at yearly interest rates of 12 percent, Kirillovykh said.
For fixed-line telephone operator Severny-Zapad Telecom, interest rates should be below 14 percent, with banks focusing on good credit histories, said Vladimir Akulich, general director of SZT.
Before the crisis, developers could get loans at rates of 8 percent per annum, but now they are facing lending rates of 18 percent, said Mikhail Parkhomenko, director of the St. Petersburg branch of the construction firm Oikumen, which recently took out a loan at Sberbank to complete a construction project.
Banks are now demanding deposits with greater liquidity – whereas previously they accepted land plots, now they prefer completed sites in good locations, Parkhomenko said.
Severen-Telecom has not taken out any loans this year, its general director Sergei Lagir said. "They've become too expensive. Banks are offering loans at rates of 24 to 28 percent, so we try to get by on our own resources," Lagir said.
News source: The St. Petersburg Times


Print this news
---
Business news archive for 15 December' 2009.
Business news archive for December' 2009.
Business news archive for 2009 year.