Business news
Russia confident over 2018 World Cup bid, even without Triesman's help
05.19.2010 18:36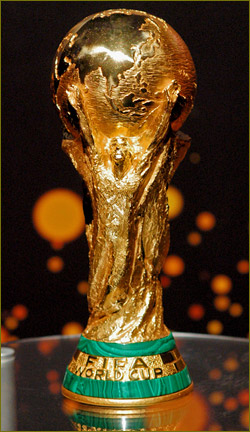 Even before Lord Triesman's intervention, the Russians were increasingly confident that their moment has arrived. Moscow's 2018 World Cup campaign has attracted surprisingly little interest from ordinary football fans. But it has won the backing of the one man who matters – Vladimir Vladimirovich Putin.
Putin gave a personal guarantee in March that the Russian government would underwrite the huge costs associated with hosting the World Cup. Other countries make similar promises, of course. Putin, however, is likely to be still running Russia in 2018 – a claim that Britain's fledgling coalition would be hard-pressed to make.
"Even before Lord Trieseman spoke I was optimistic about Russia's chances. England were the main threat. Now I'm even more optimistic," Anton Lisin, a columnist with the Sovietsky Sport newspaper, said. "Ever since Putin signed the government guarantees, there has been a very good mood."
Speaking today, Andreas Herren, spokesman for Russia's 2018 World Cup bid, declined to say just how much Russia is prepared to invest, saying: "The figures are confidential."
It is clear, however, that Moscow is prepared to pump billions into making the tournament a success, and addressing concerns that its infrastructure is either non-existent or not up to the job.
In its 1,100-page submission to Fifa in Zurich last week, Russia laid out an unprecedented programme of stadium construction. It plans to build 10 new ones – with the event staged in "mini-clusters" across the European part of Russia. The 13 city venues include a northern one centred on St Petersburg, a central option in Moscow and a southern section around Sochi, the Black Sea venue for the 2014 Winter Olympics. The opening match, a semi-final and the final would take place in an upgraded Luzhniki stadium in Moscow.
Russia is likely to drum up strong private investment from oligarchs who understand it is best to stay on the right side of Kremlin. The bid to Fifa envisages a private/state partnership and last week Alisher Usmanov, the billionaire Arsenal shareholder, announced he was supporting the bid as an official sponsor. Roman Abramovich, the Chelsea owner, is likely to follow. Abramovich had toyed at one point with renovating the Luzhniki stadium for Russia's national team, but it seems this idea has been put on hold.
There have been problems with the Putin-backed Sochi preparations, which have been dogged by allegations of environmental destruction. Several oligarch backers, meanwhile, have faced financial problems, delaying building work. Russia's government, however, insists all facilities will be completed ahead of schedule and commentators are confident the country would deliver on its commitment to build stadiums and other infrastructure to host the World Cup.
"Russia does not have a leadership that doubts its own capacities," Vasily Utkin, a leading Russian sports commentator, said. "They are confident they will be able to realise everything, and that they will still be in power."
"Russia is the seventh biggest economy in the world, and it has very stable government," Herren added – a polite way of flagging up the view that the authoritarian system will not produce any nasty surprises, with less potential for upset than South Africa or Brazil. "Russia has become a new Russia. It's a huge power in football. It's ready to host the World Cup."
Russia may be ready, but until Lord Triesman's infelicitous remarks about referees few Russians even seemed aware that their country was in contention to host the event. Russia launched its bid and website only in October. Moreover, its 2018 promotional video is a surprisingly amateurish affair: it features Andrey Arshavin and Roman Pavlyuchenko looking like a pair of awkward teenagers reluctantly taking part in an overseas school exchange. Both speak in heavily accented English. "I think Russia will make a great host of World Cup," Arshavin stammers.
But what it lacks in slickness, Russia's bid makes up for in novelty and sincerity. Russia would be the first country from the former Soviet bloc to host a World Cup, and it can also point to the transformational legacy the event would bring to large swathes of the country, where there are currently no sporting facilities at all.
Few in Russia believe the Triesman affair will play a decisive role when Fifa decides on the winning bid on 2 December. "What an old man says in private to his secretary is a private matter," Utkin said. "I wouldn't say that Russia is the favourite. Fifa's discussions take place behind closed doors. It's very hard to predict."
News source: Guardian.co.uk


Print this news
---
Business news archive for 19 May' 2010.
Business news archive for May' 2010.
Business news archive for 2010 year.