Business news
Hotels Face Compulsory Certification
06.25.2010 15:02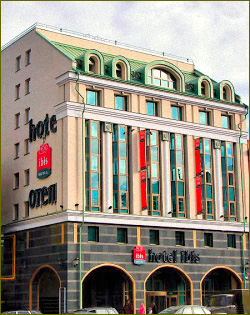 Every hotel, beach and ski resort in Russia will soon have to obtain an obligatory classification as the country gears up to host the 2014 Winter Olympic Games in the Black Sea resort of Sochi.
Previously, Russian hotels obtained star-category classification on a voluntary basis, but obtaining certification will become obligatory after an order signed in June by Vitaly Mutko, minister for sport, tourism and youth policy, comes into force.
There are 471 officially certified hotels in Russia – about 10 percent of the total number of 4,500 hotels, according to data from the Federal Tourism Agency. St. Petersburg has 88 three-, four- and five-star hotels, of which only 14 of them have star certification, according to data from Colliers International. In Moscow, 31 hotels have star certification.
"There are no international unified standards for awarding stars to hotels," said Sergei Korneyev, director for the northwest of the Russian Tourism Industry Union. "Each country has its own system, and this is inconvenient for tourists, since, for example, Egyptian stars differ from European ones. There have been many misunderstandings."
There are currently about 30 national systems of hotel classification around the world.
"Among them are the letters system used in Greece and the crowns system used in the U.K., though the most widespread system is the star classification," said Yevgenia Tuchkova, senior consultant at the consulting department of Colliers International.
The first attempts to introduce classification standards in Russia were made in the Soviet era. In 1984, a document was drawn up dividing hotels into seven categories. The regulation existed until 1994, and was followed by three more certification documents. Finally, in 2005, a new system of state classification of hotels guesthouses was launched, taking into account European experience.
The new regulations examine all possible criteria according to which hotels are divided into five categories. Each hotel will be awarded a number of points depending on the number of rooms and the services offered.
For example, the waiting time for an elevator in four– and five-star hotels should be no more than 30 seconds, or 45 seconds in a three-star hotel.
"The new system should correspond to the nuances of the hotel business," said Korneyev. "For example, some of the demands will make it impossible for mini-hotels to obtain five-star status, though in general they correspond to it."
"The system is quite good, but the mechanism for its implementation has not been spelled out," he said.
The hotel categories will be evaluated by a special committee of representatives of the Federal Tourism Agency and other ministries.
The classification will be a paid procedure, and mandatory certification is expected to cost less than voluntary classification, which according to data from the Russian Agency of Law and Judicial Information currently costs about $1,500 for three- to four-star hotels with less than 100 rooms.
"Hotels should also find out what they will get as a result of the certification," said Korneyev. "Before there were a number of bonuses, such as advertisement in various state publications."
As the procedure was not cheap, many hotels declined to apply for classification.
"Such hotels could give themselves as many stars as they wanted, but the obligatory classification will regulate the hotel system," said Yekaterina Vasilyeva, deputy PR manager at the Grand Hotel Europe. "For hotels offering luxury services, the certification is not a threat. They will just have to improve some services to meet these requirements," she added.
"Many hotels that are located in old buildings will need to invest a lot in engineering infrastructure and additional facilities to get the necessary number of points to obtain the certification and get the stars they want," said Tuchkova.
Hotels that fail to declare their status under the new rules will pay a fine, for which documentation is currently being prepared by the State Duma.
"Hotels without certification won't have the right to use their unofficial rating in advertisements and furthermore, limits may be applied to the activity of such hotels," said Tuchkova.
Certificates will be issued for five years, but hotels will have to reaffirm their status twice a year.
News source: The St. Petersburg Times


Print this news
---
Business news archive for 25 June' 2010.
Business news archive for June' 2010.
Business news archive for 2010 year.