Printed from: http://petersburgcity.com/news/business/2010/09/22/Hyunday_220910/
Business news, 22.09.2010 03:22
Hyundai opens plant in Russia near St. Petersburg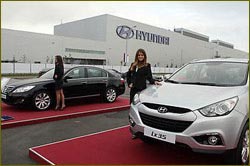 Hyundai Motor Co. of Korea, which once produced an early version of its Sonata sedan at Bromont, near Montreal, opened its first plant in Russia near St. Petersburg on Tuesday. It has cost $654 million U.S. and has annual capacity of 150,000 cars.
Hyundai, now a multinational car producer with two plants in the Southern U.S., said the new St. Petersburg plant will have the highest proportion of locally produced parts of any foreign carmaker in Russia. Several Korean parts firms have opened satellite plants near St. Petersburg to supply Hyundai's assembly venture.
The plant will first produce a small sedan and later a hatchback optimized for the Russian market.
Hyundai invested $450 million in the Bromont plant in 1989 and began producing Sonatas for the North American market with target annual sales of 100,000 vehicles. It was shut down in 1993 because of poor sales. The stamping shop and welding robots were later moved to a new Hyundai plant in India. The Bromont building was eventually sold to local investors.
News source: Montreal Gazette