Printed from: http://petersburgcity.com/news/business/2010/09/24/Magna_240910/
Business news, 24.09.2010 01:03
Russia: Magna announces 3 plant openings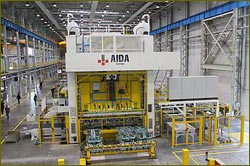 Magna has announced the opening of three facilities in the St Petersburg area in Russia.
Two of the facilities operate as Cosym, a joint venture started in 2006 between Cosma International, an operating unit of Magna, and Shin Young Co, a South Korea-based supplier of major stampings, welded assemblies and tooling.
The Cosym stamping and assembly plant in Shushary currently has 170 employees and produces body, chassis and energy-management systems for OEM customers such as Hyundai, General Motors, Nissan and Volkswagen. The Cosym assembly and sequencing plant in Kamenka is a Hyundai-dedicated production site that currently has 50 employees producing body sub-assemblies based on parts stamped in Shushary.
Once the Cosym facilities reach full capacity, total employment of 650 workers between the two locations is expected. These locations cover a production area of 54,000 square metres in total.
Magna's chief marketing officer James Tobin commented: "On behalf of Magna International, I want to thank Hyundai Motors for their confidence in us and Shin Young for their partnership. We started this programme in early 2009 in Korea with a global project team and mobilised the team to St Petersburg to help complete the construction and implementation of the manufacturing process. This opening not only signifies the start of production, but also demonstrates a robust collaboration between a key supplier and customer."
In addition to the two Cosym facilities, Magna also announced the opening of a Magna Exteriors and Interiors facility in Kolpino which has approximately 25 employees, producing exterior and interior components for OEM customers including Ford and Nissan.
Added Magna chief executive officer Don Walker: "We expect the Russian automotive market to grow significantly. As one of the world's largest suppliers, and as the most diversified automotive supplier, we have expanded our footprint to help our customers grow in this region as well as regions around the world, especially on global platforms. St Petersburg, together with our existing operations in Kaluga and Nizhny Novgorod, are just the beginning of our expansion strategy for Russia."
Magna currently employs approximately 600 people in Russia and expects to double that number once the new facilities are fully operational
News source: Automotive world ltd