Business news
Russia, France seal deal on Mistrals
12.28.2010 00:23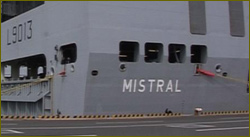 After long and arduous negotiations, Russia has decided to buy at least two of France's Mistral-class helicopter carriers in an unprecedented military deal between the Kremlin and the West.
Under the agreement, the initial pair of carriers will be built jointly by France and Russia at the STX shipyards in Saint-Nazaire, France. The remaining two will be manufactured in a joint venture in St. Petersburg, Russia.
The multimillion-dollar deal was announced by the Kremlin and the Elysee Palace in Paris.
"It marks the first time in modern history that Russia has made such a major defense acquisition abroad, illuminating a fast-evolving relationship with former Cold War enemies," The Washington Post reported.
That rapidly evolving relationship, the newspaper reported, was best illustrated at a NATO summit last month, when Russian President Dmitry Medvedev agreed to work with NATO on ways to cooperate with the U.S.-led alliance in setting up a missile defense system for Europe.
Designed to attack the shore from the sea, the Mistral class is viewed as an ideal weapon for Russia against possible uprising by nearby countries.
The price tag for each vessel is estimated at around $380 million and the building venture will be a 50-50 project.
The Mistral amphibious assault ship can carry 16 heavy or 35 light helicopters, dozens of tanks, 450 personnel and up to 70 armored vehicles, including 13 battle tanks.
Defense News reported that the first Mistral-class shipped is to be completed within 36 months once Russia makes an advance payment scheduled for January.
Details of their deployment have yet to be divulged by Russian military officials but it has been publicly suggested that use of the Mistral ships will be made in the Northern and Pacific fleets.
Financial terms of the deal weren't disclosed. Still, the sale signaled a triumph for French President Nicolas Sarkozy who pushed for the purchase to boost France's sagging defense industry and rising unemployment rate.
Medvedev and French President Nicolas Sarkozy hail the realization of the unprecedented cooperation, which will benefit industry and employment in our two countries, and which illustrates the will and capacity in France and Russia to develop large-scale partnerships in all areas, including defense and security," the Elysee said.
At its inception, the deal drew strong concern from NATO allies who were apprehensive of the transfer of Western naval technology to their former Cold War foe.
The sale was also opposed by Georgia, "whose leaders said it would be interpreted as a benediction of Russia's role there during a brief war in the summer of 2008 and the stationing of Russian troops on territory still considered part of Georgia by NATO nations, including France," The Washington Post reported.
Russia owns only one Soviet-built aircraft carrier, which is much smaller than its U.S. counterparts and is considered outdated. With its cutting edge technology, the Mistral is prided as the most powerful asset of the French fleet.
News source: United Press International, Inc


Print this news
---
Business news archive for 28 December' 2010.
Business news archive for December' 2010.
Business news archive for 2010 year.