Printed from: http://petersburgcity.com/news/business/2011/07/19/new_ford_focus_190711/
Business news, 19.07.2011 01:54
New Ford Focus started production in Russia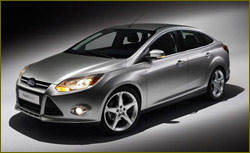 The production of the brand-new Ford Focus started at the Vsevolozhsk plant near St. Petersburg in Russia.
Being the first car built by a global automotive company in Russia, the Focus was first produced there in 2002, and it was the best sold foreign automobile for seven years in the country.
According to the manufacturer, the new Focus assembled near St. Petersburg will have three different versions of the body, four-door, five-door and wagon, and the popular five-door variant went into production on July the 18th. The four-door Focus and the wagon will go into production in September and January.The 5.000 customers in Russia who already ordered the new Ford Focus will be able to choose from four engines, three petrol and one diesel, and 10 exterior colours.
The Vsevolozhsk plant near St. Petersburg built more than 400.000 units of Focus since 2002 and the date when the new model went into production commences on the same day as the first on-sale date for the Focus in South Africa.
News source: Inautonews