Business news
Detroit automakers urge suppliers to invest in Russia
01.31.2012 15:18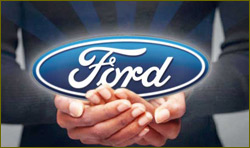 Detroit —General Motors Co. and Ford Motor Co. have a message for Michigan suppliers: Russia is the place you want to be.
Two decades after the fall of communism and the breakup of the Soviet Union, Russia boasts one of the strongest automobile markets in the world. Automakers sold nearly 2.5 million cars and light commercial vehicles there last year, and most experts believe Russia will surpass Germany to become the largest car market in Europe by the end of the decade. And the country's recent ascension to the World Trade Organization makes it all the more attractive to foreign manufacturers.
"The main reason we're there is we see opportunity in the market," said James Bovenzi, president of GM Russia. "Yes, it's a volatile market. Yes, there's currency risks. And, yes, there could be some bumps along the road. But we feel it's a long-term good investment." However, Bovenzi said General Motors cannot go it alone.
"We truly need the supply base to be with us," he told suppliers at a dinner organized here earlier this month by the U.S.-Russia Business Council. "We cannot be successful without the infrastructure and the capabilities that you can bring."
That is partly because of a new law passed by the Russian government last year that requires foreign automakers to increase their use of domestically produced parts in exchange for ongoing exemptions from tariffs.
Decree 166 requires manufacturers to source 60 percent of their components locally by 2015.
But that does not mean those suppliers have to be Russian.
"That means local suppliers in Russia," said Alan Draper, vice president of purchasing for Ford of Europe, who said his company already has convinced Southfield-based Lear Corp. and Milwaukee-based Johnson Controls Inc. to open factories in Russia to support local production of the Ford Focus and other products. "In terms of localization, we've worked out what it takes. Our strategy now is to get on and get it done."
Ford and General Motors have both agreed to the provisions of Decree 166, as have Volkswagen AG and Renault SA. Russia has agreed to relax its tariffs on foreign imports as a condition of joining the WTO, but that will be a gradual process and the government says it will compensate those four companies for their compliance with law's targets.
Supply base needed
"Regardless of the regulations, we need to localize to be competitive," said GM's Bovenzi. "The local Russian supply base is not very mature."
And he said importing parts can be a logistical nightmare. Last year, General Motors had ships filled with parts stuck in the ice for weeks off the coast of St. Petersburg.
The lack of a strong, reliable supply base "has been the major challenge of the industry in Russia," according to Ivan Bonchev, head Ernst & Young's Russian automotive business. He said unlike the other red-hot car markets — China, India and Brazil — Russia remains a major importer of vehicles. That is why the Russian government has been so aggressive about promoting the development of local manufacturing.
"The major goal of the authorities has been to attract as much investment as possible to make a solid production base in Russia and, hopefully in the longer term, create some export potential," he said.
Market grew 40 percent
Last year, the Russian car market grew by 40 percent. Those numbers will not be duplicated in 2012, but Bonchev said demand will remain strong and continue to grow.
"Russia definitely will become the largest European market," he said. "For those who want to have a significant presence in the market, it makes sense to be there. Indeed, especially when it comes to suppliers, there are huge opportunities and untapped potential as, practically, there is no competition."
Ernst & Young expects the market for automotive components in Russia to grow from about $54 billion last year to $69 billion in 2014.
Even the U.S. government is encouraging automotive suppliers to invest in Russia.
"Russia is becoming a more important economic partner for the United States," said Matthew Edwards, acting director of the Office of Russia, Ukraine and Eurasia for the Commerce Department, adding that Russia's ascent to the WTO "bodes better for foreign companies."
Russia was formally accepted into the WTO last month after 18 years of negotiations. However, its ascension still needs to be approved by the Russian Duma, which has until the end of June to act. The U.S. Congress must also take certain steps to ensure that American companies receive the full protections to which they will then be entitled, Edwards said.
WTO makes investing easier
The Original Equipment Suppliers Association, which represents American auto parts manufacturers, says Russia's inclusion in the WTO will make it a lot easier for its members to justify investing in the country.
"That creates a sense of discipline there that wasn't there before," said Neil De Koker, managing director of the OESA. "Russia is definitely being carefully looked at by our members. There is trepidation, but also growing interest. The market is continuing to grow."
De Koker said many American suppliers are already doing business in China, which still has a communist government.
"There is concern about the nature of government in Russia, but we're willing to take risks in China, and I think the risks in Russia are certainly not any greater than they are there," he said. "If you're looking to grow, you need to be in those markets."
News source: The Detroit News


Print this news
---
Business news archive for 31 January' 2012.
Business news archive for January' 2012.
Business news archive for 2012 year.