Printed from: http://petersburgcity.com/news/business/2012/08/23/Starwood_aloft_230812/
Business news, 23.08.2012 18:26
Starwood Hotels & Resorts Continues Expansion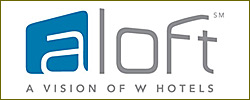 Starwood Hotels & Resorts Worldwide and its destination sensation brand, Aloft Hotels announces the signing of Aloft St. Petersburg.
Created to shake up the staid and traditional mid-market hotel sector, Aloft is redefining the category by delivering urban-influenced, modern and vibrant design and a social guest experience at an affordable price point. The opening of Aloft St. Petersburg in 2015 will mark the debut of Starwood's Aloft Hotels brand in Russia.
Owned by Remstroyintour LLC and Ludmila Kudryavtseva, Aloft St. Petersburg will be located in an emerging business district within close proximity to galleries, restaurants and green spaces, and will offer an entirely new approach to hospitality in the city of St. Petersburg. This deal was announced earlier today at a press conference in MOSCOW with Starwood President & CEO Frits van Paasschen and Roeland Vos, President of the company's Europe, Africa and Middle East Division.
"We are delighted to partner with Remstroyintour LLC and Ludmila Kudryavtseva to open the first Aloft hotel in the country," said Vos. "We see great opportunities to grow our Aloft portfolio in markets like Russia where there is a strong demand for affordable yet stylish, innovative hotel brands. The signing of Aloft St. Petersburg underlines Starwood's continued commitment to expanding our portfolio of mid-market brands in Russia and throughout Europe."
A vision of W Hotels, Aloft has been an industry game-changer since its 2008 debut. Its vibrant "style at a steal" brand proposition is geared toward the next generation of travellers, pioneering initiatives in music, design and technology, while providing modern comforts and a fun social guest experience. The Aloft brand consistently garners high guest satisfaction scores, with select hotels ranking among TripAdvisor's 2012 "Top 25 Trendiest Hotels in the US and around the world."
"Aloft has become a popular choice for owners and developers looking to fill the void in the mid-market hotel category," said Bart Carnahan, Senior Vice President, Acquisitions & Development, Europe, Africa and Middle East Division, Starwood Hotels & Resorts. "We are focused on growing Aloft in secondary and tertiary markets throughout Russia and CIS, where we see the greatest demand for an alternative to the mid-market category."
"I am pleased to partner with Starwood to bring the Aloft brand to Russia. This hotel will start a new page in the history of the Russian hotel industry," commented owner Ludmila Kudryavtseva.
Starwood currently operates three hotels in Russia, including Hotel National, a Luxury Collection Hotel and the Sheraton Palace Hotel in MOSCOW , as well as the recently opened W Hotel in St. Petersburg. Aloft St. Petersburg will be Starwood's second hotel in the city.
News source: The FINANCIAL, Business News & Multimedia