Business news
Saint-Petersburg GTH, Opens Its New Store on Manhattan's Fifth Avenue
07.10.2013 13:54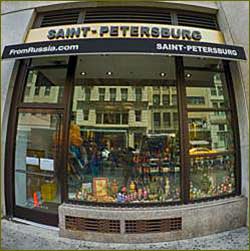 Saint-Petersburg Global Trade House, the largest retailer of imported Russian merchandise outside the former Soviet Union, opened a new store this June on Manhattan,s Fifth Avenue. Finally, the sophisticated people of Manhattan have a place, where they can find virtually every Eastern European product imaginable
Taking a stroll up the Manhattan's iconic Fifth Avenue, one is showered with a never-ending plethora of glittering places of retail grandeur, shimmering in the tenderness of the July sun and gleaming with pomposity from their own self-amazement. Zegna and Prada, Rolex and Armani, Versace and Gucci, Saks and Goodman – they are all here, all on one street, pulsating to the beat of the world, the world that traveled incalculable distances to, even if for just a brief, frail moment, be able to bask in their aura. These companies, along with others like them, make the Fifth Avenue the place to be for Manhattan's deftly extravagant shopping scene. It seems that just like the strictly-serious and eternally unchanging Doric columns of one famous temple, dedicated to the no less famous goddess of wisdom, the list of Fifth Avenue inhabitants would also stay rigidly permanent through the fluidly-placid flow of the passing millennia. However, it just so happens that this July is set to witness a brand new member joining these companies' ranks, one that as yet, may not have the global recognition of some of these multinational giants, but one that is awesomely-inventive, defiantly-audacious, and certainly and corruptively cool-to-the-core. This newcomer is Saint-Petersburg Global Trade House!
Saint-Petersburg GTH, a Brooklyn company, specializes in products from Russia and other Eastern European countries, and has been in business for 19 years, capturing a sizable market share in an industry of small companies and utter interdependence. Starting out as a small Russian language book, music, and movie supplier to the immigrants from the former Soviet Union, the company gradually evolved into a major player among the importers and sellers of Russian-made goods in the United States through its brick-and-mortar stores, as well as their online retail establishments. While it still offers Russian books, CDs, and DVDs, it is the company's Home Goods and Gifts departments that are growing steadily.
News source: Virtual-Strategy Magazine


Print this news
---
Business news archive for 10 July' 2013.
Business news archive for July' 2013.
Business news archive for 2013 year.