Warning: current() expects parameter 1 to be array, null given in /home/webs/city.air.spb.ru/system/advert.robo on line 24
News at PetersburgCity.com


City news

Business news

Culture news
---
Hot topics


Visa Support

"Stars of the White


Nights" Festival

"Day of the City"


program
---
Popular search words this week

---

Business news
Port of Saint-Petersburg in Modernization Mode (Russia)
08.02.2013 20:24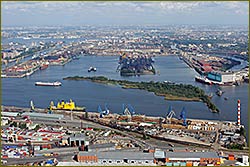 Within 6 months of 2013 JSC "Sea Port of Saint-Petersburg" ("SP SPb") transferred 102.5 mln Rubles for the modernization of the cargo terminals and infrastructure.
Within the programme on modernization of production process the company transferred main part of the funds for the renovation of handling and technological equipment, including lease payments for the equipment purchased earlier.
This year two radio-controlled grabs GUVEN GRAB & MACHINE were delivered to the berths of "SP SPb". Putting these grabs into operation allowed to increase the speed of handling of bulk cargoes. The company also purchased 4 semi-trailers (Tonar) for handling of mineral fertilizers and rolling equipment for stripping of cargoes at the ro-ro terminal.
Besides, the port performed works on modernization of storage areas. In particular, in order to increase environmental safety during the process of handling of loose cargoes warehouse Nr. 36 was reconstructed for temporary storage of mineral fertilizers.
Railway tracks at berth Nr. 29 were repaired and the check-point via state border of RF was reequipped.
News source: dredgingtoday


Print this news
---
Business news archive for 02 August' 2013.
Business news archive for August' 2013.
Business news archive for 2013 year.

Culture news archive
August' 2013
Su
Mo
Tu
We
Th
Fr
Sa
1
2
3
4
5
6
7
8
9
10
11
12
13
14
15
16
17
18
19
20
21
22
23
24
25
26
27
28
29
30
31
Archive for 2013 year
---