Printed from: http://petersburgcity.com/news/business/2015/08/27/vertex_270815/
Business news, 27.08.2015 10:49
The new pharmaceutical enterprise is opened in St. Petersburg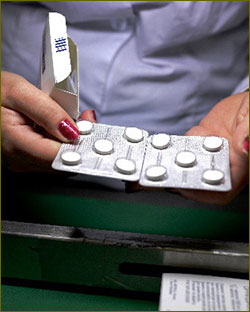 On August 26 the ceremonial opening of the first stage of an innovative industrial complex of the pharmaceutical company "VERTEKS" on a platform "Novoorlovskaya" of the Special economic zone "St. Petersburg" took place.
In action accepted a fate: vice governor of St. Petersburg Sergey Movchan, CEO of JSC Verteks Georgy Pobelyansky, deputy director of development department of the pharmaceutical and medical industry of Minpromtorg of Russia Dmitry Kolobov, director of Association of producers of pharmaceutical production Oleg Rudenko and other guests of honour. With welcome speech on behalf of the Government of St. Petersburg Sergey Movchan acted. He noted that the Verteks company – one of the leading players of the Russian pharmaceutical industry, our reliable partner in the development of the Petersburg medico-pharmaceutical cluster, implementation of the import substitution program. "For the short period the modern industrial complex is constructed, new hi-tech workplaces are created", - Sergey Movchan emphasized.
We will remind, JSC VERTEKS became the resident of the Petersburg OEZ in 2010, in 2013 the company came to a building site, and in 2014 - finished construction of the first stage of innovative industrial complex. The area of the object makes more than 20 thousand sq.m, including, the area of pure rooms – 4 thousand sq.m, laboratories – 1 thousand sq.m., a warehouse complex – about 4 thousand sq.m. The company has in OEZ the land plot of 4,85 hectares. At the moment investments of the resident in the project exceeded 2,2 billion rubles. The planned output of the first stage of the enterprise at the initial stage – about 70 million packings of finished medicinal goods, or to 1 billion pieces of medicines a year.
In the summer of 2015 the producer already started production of drugs at the new plant. In OEZ the resident gradually transfers capacities from the operating platform of the company on Vasilyevsky Island in St. Petersburg. After completion of implementation of the BEPTEKC investment project I intend to transfer to a platform "Novoorlovskaya" all capacities. The range of the company is made by prescription and nonprescription generics and a brand generics – only more than 130 positions about 80 of which are included into the list of ZhNVLP (vital and major medicines). Main directions of production of the company: cardiology, dermatology, Allergology, gynaecology, neurology, stomatology, psychiatry, etc.
Advisor to director general of JSC Osobye ekonomicheskiye zony Farid Verdiyev: "The VERTEKS company - one of the largest residents of the Petersburg OEZ, the second for the volume of construction and to the volume of investment. The resident realizes the investment project strictly in the planned terms. This summer the company of the second opens the enterprise on a platform "Novoorlovskaya", however, it finished construction of the plant the first". In 2016 JSC VERTEKS plans design of the second turn of innovative industrial complex thanks to which the area of production and a warehouse complex will be expanded.
News source: Administration of St. Petersburg